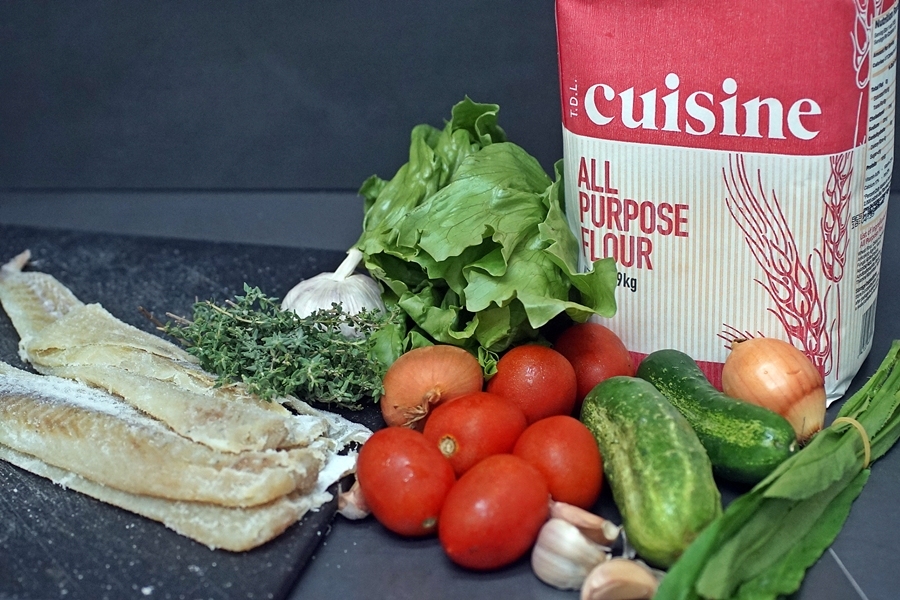 A good way to keep your no-meat Lent fast exciting is by putting new twists on old favorites. Take these loaded Accras made with simple ingredients that you can find at your favorite Massy Stores.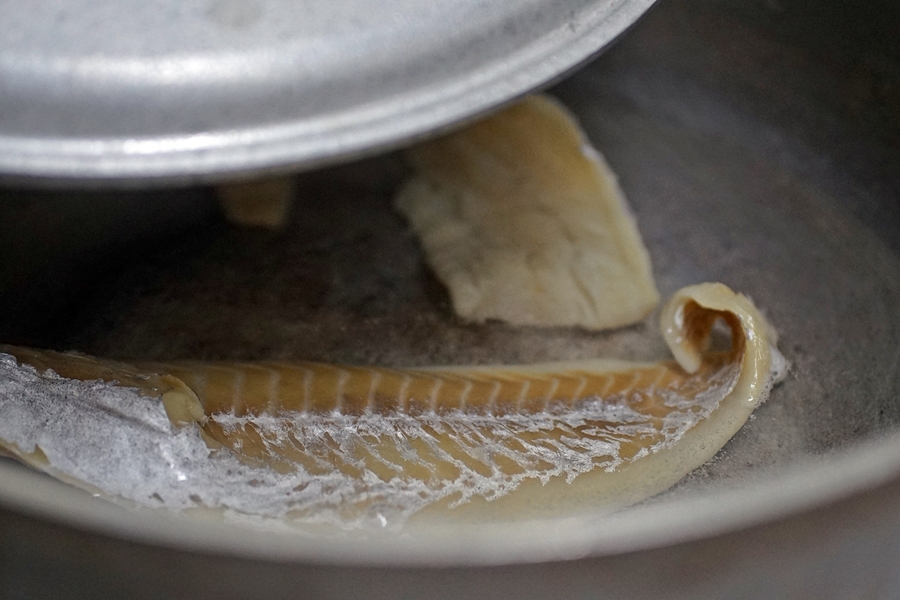 If you're talking Accra, you're talking Salt Fish. Start by boiling the Salt Fish for about 15 minutes to get some of the salt out.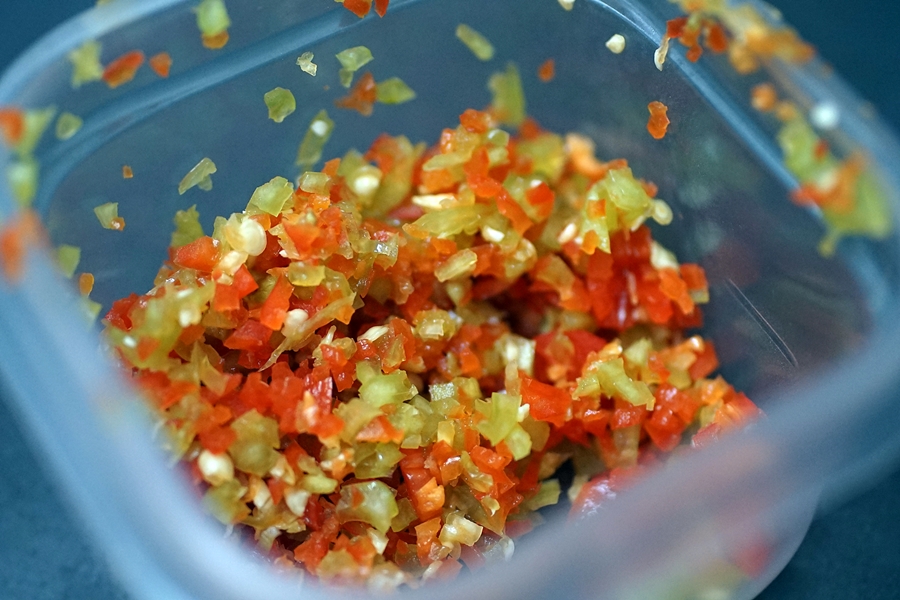 You can use that boiling time to do some prep. Mince some Pimiento.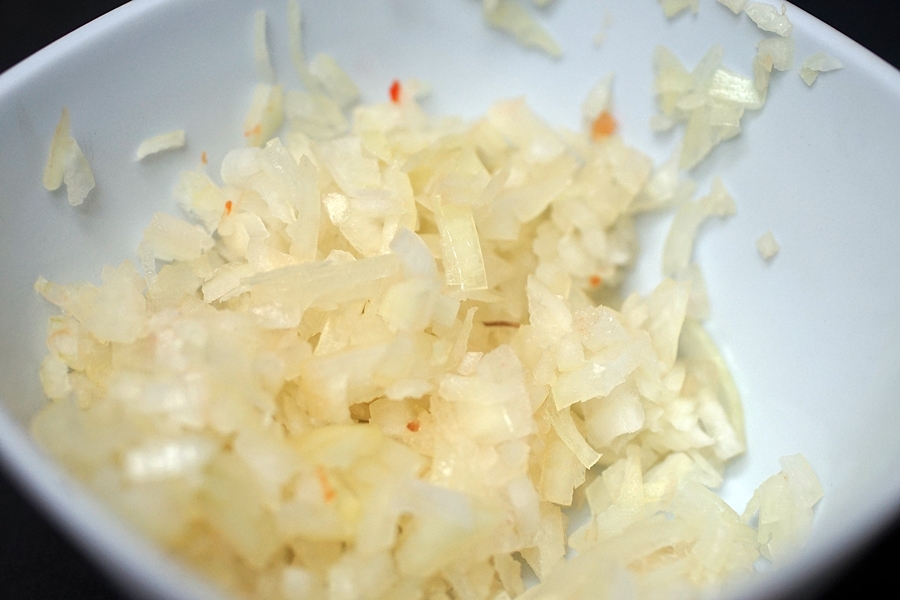 Mince some Onion.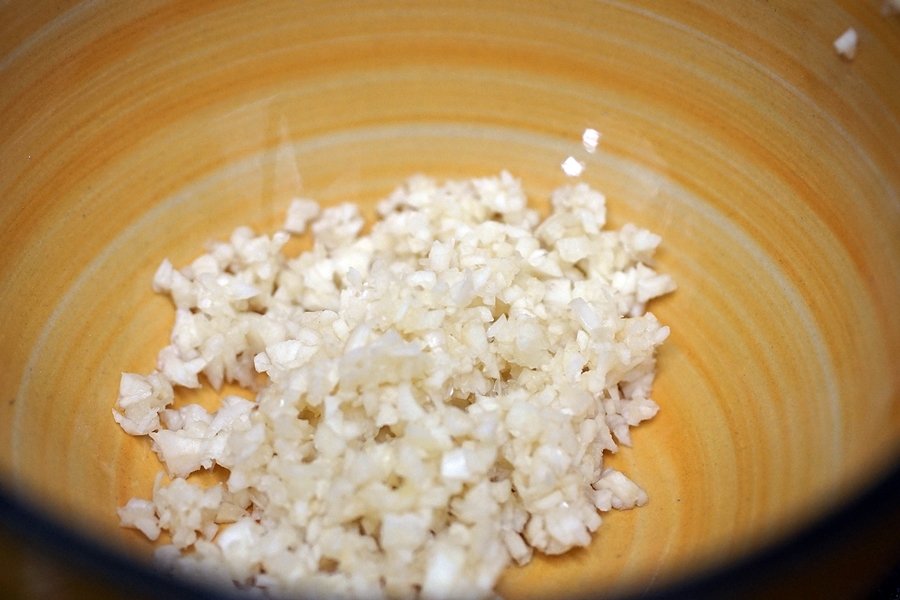 Mince some Garlic.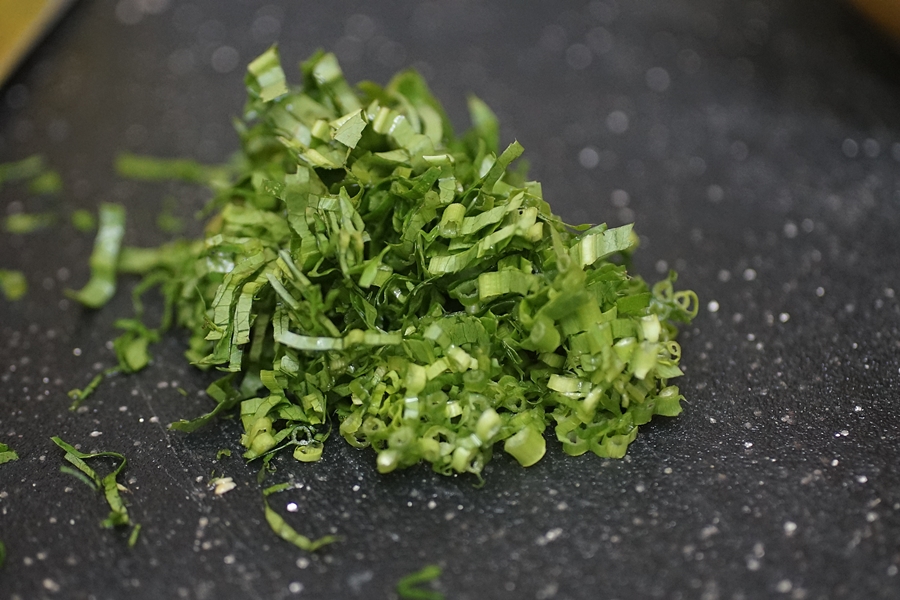 And chop some Chadon Beni.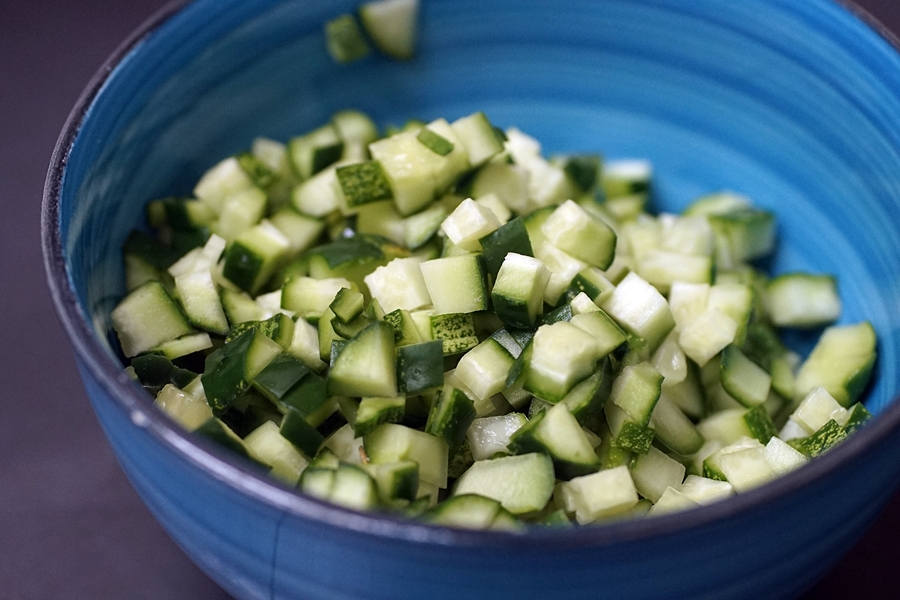 For the filling, you can use pretty much any combination of fresh veggies you like. We used Cucumbers.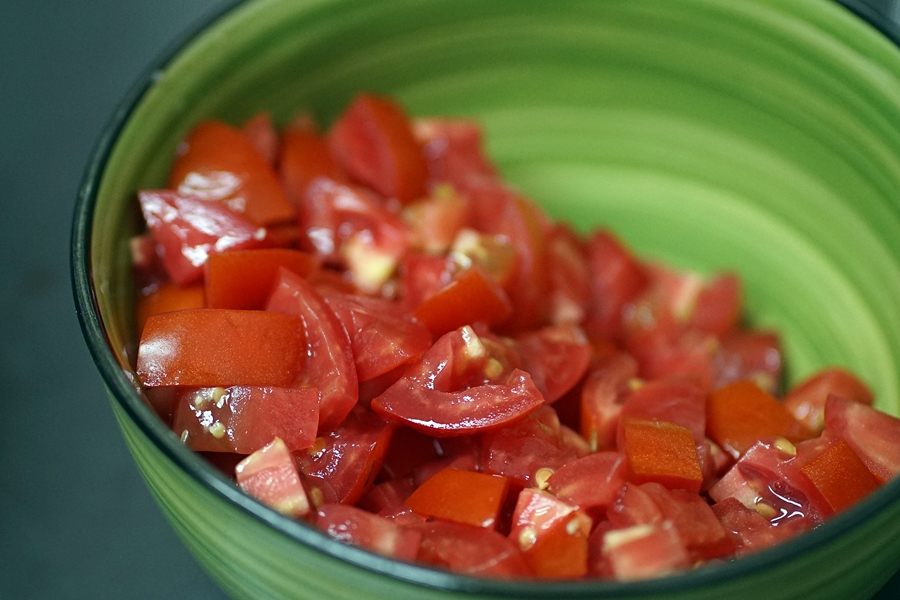 And we diced some Tomatoes too.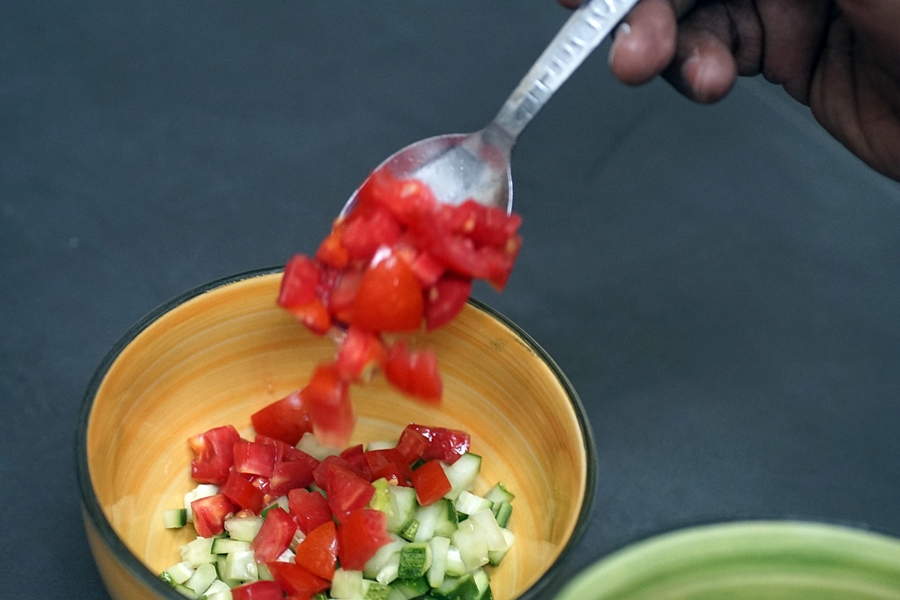 Mix your veggies together.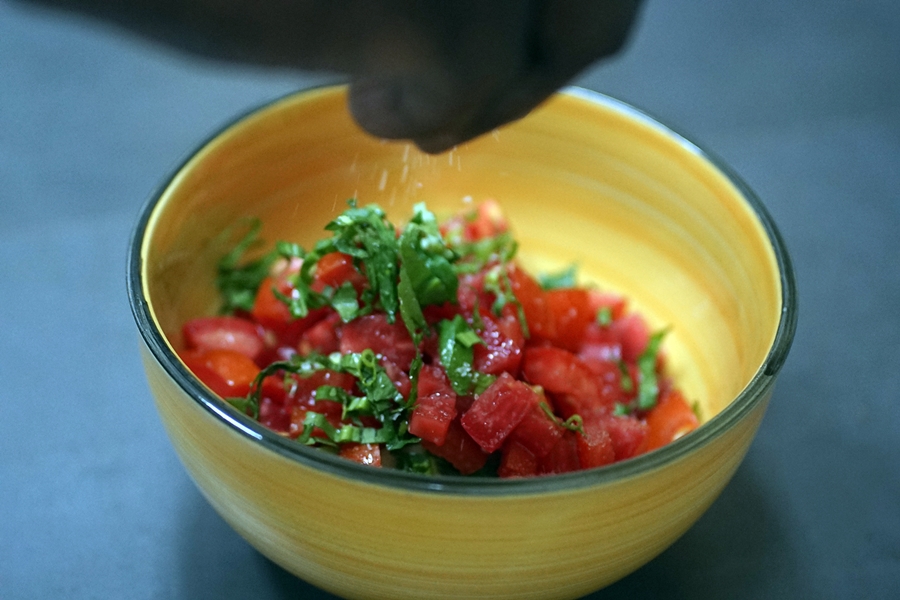 Then season your veggies with Salt, Black Pepper and a little bit of your chopped Chadon Beni.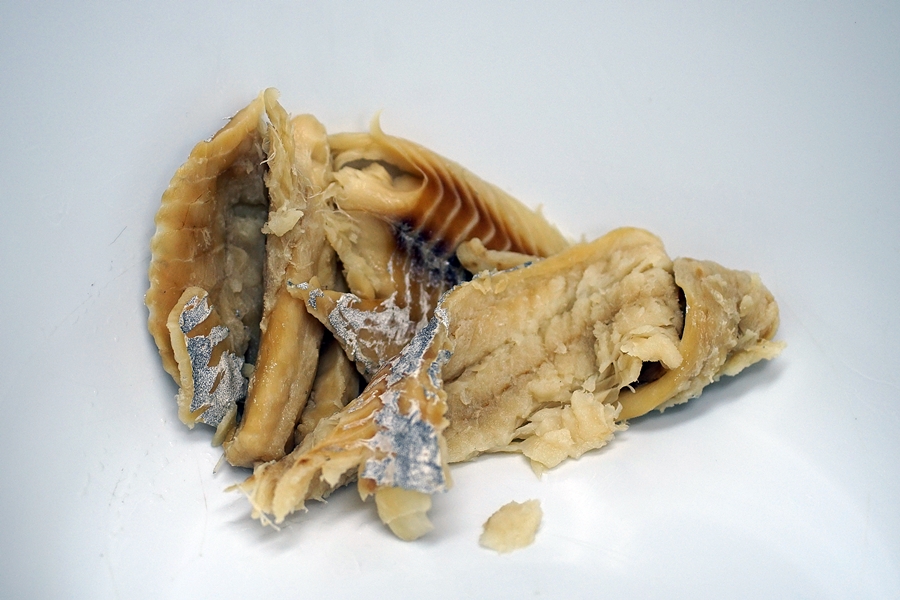 By this time, the Salt Fish should be ready. Take it out of the boiling water and place into a bowl to shred.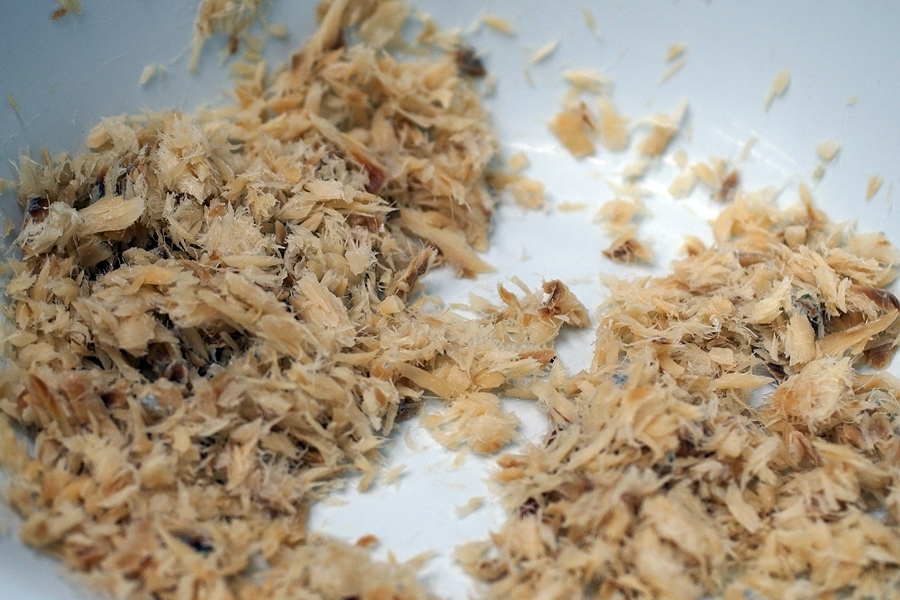 With a fork, rip the Salt Fish into flakes.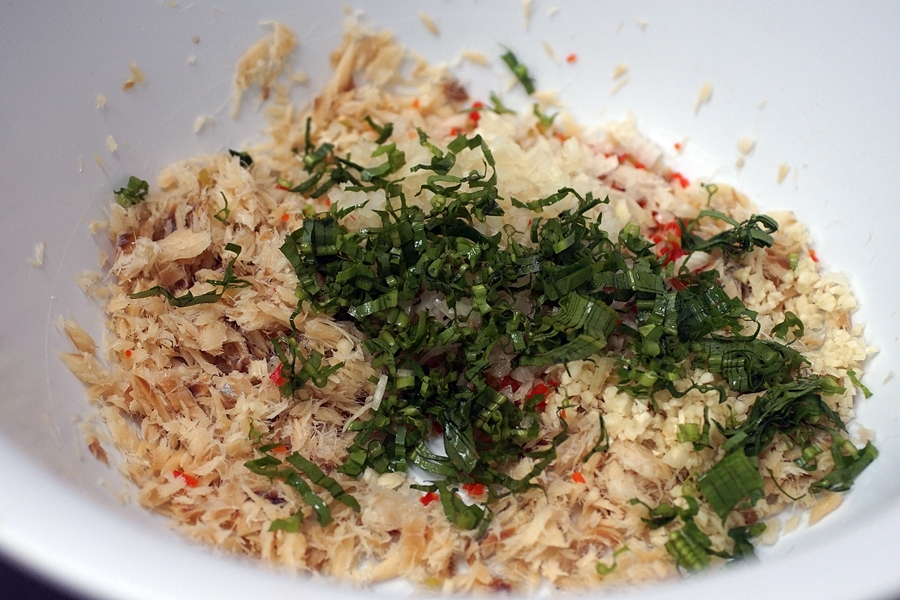 Add the prepped Onion, Garlic, Pimiento and Chadon Beni to the bowl.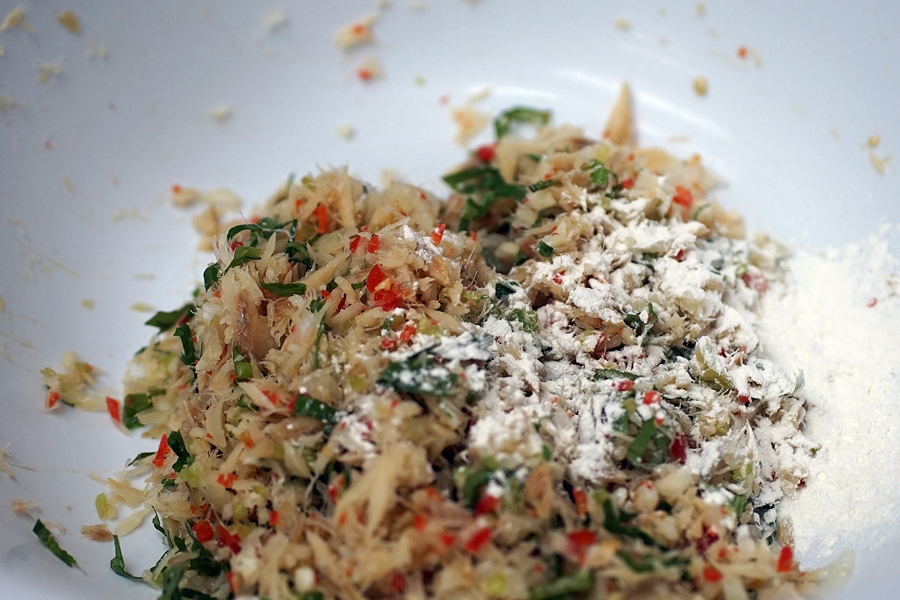 And just a little baking powder to help with the texture.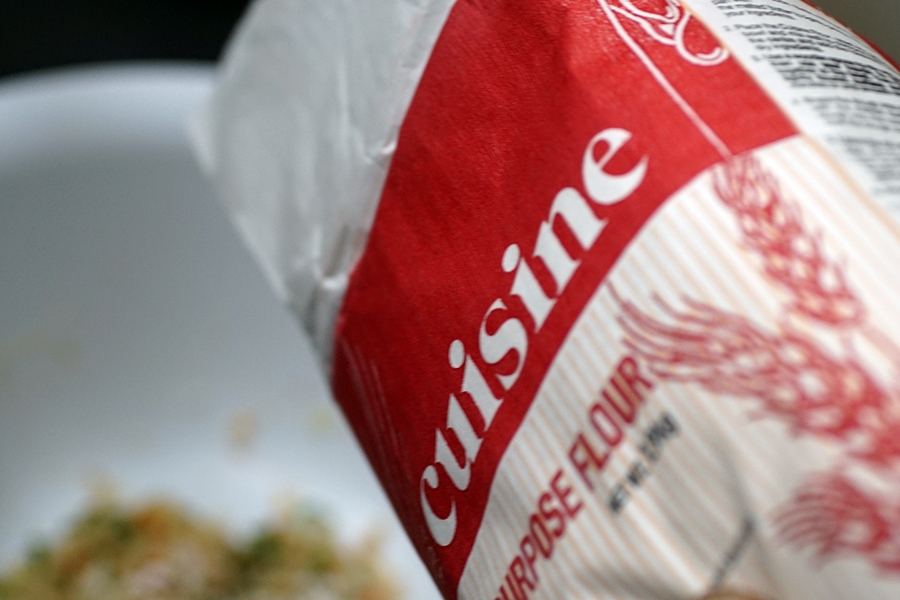 And finally, some CUISINE Flour to bring it all together.

Add some hot water to the mix.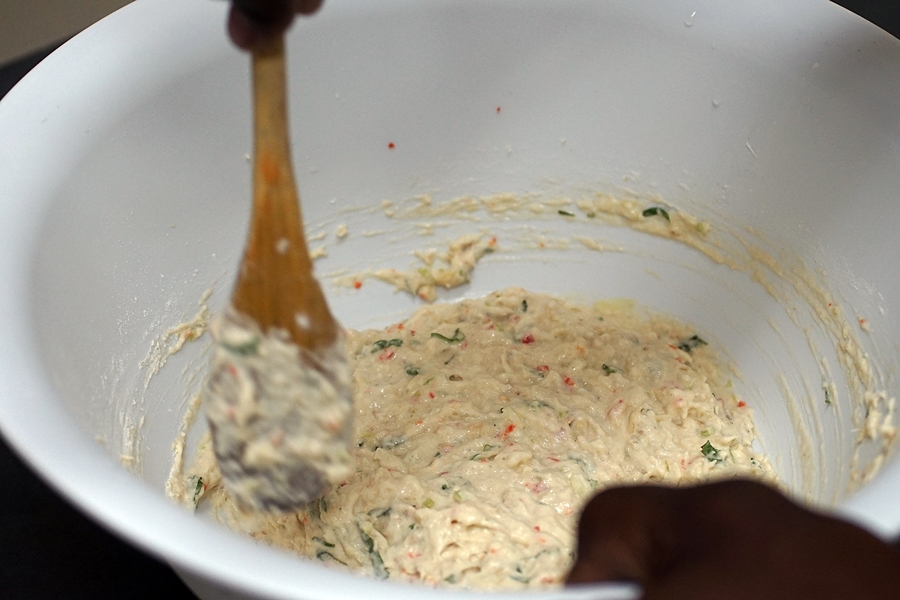 Then mix to combine all the ingredients evenly.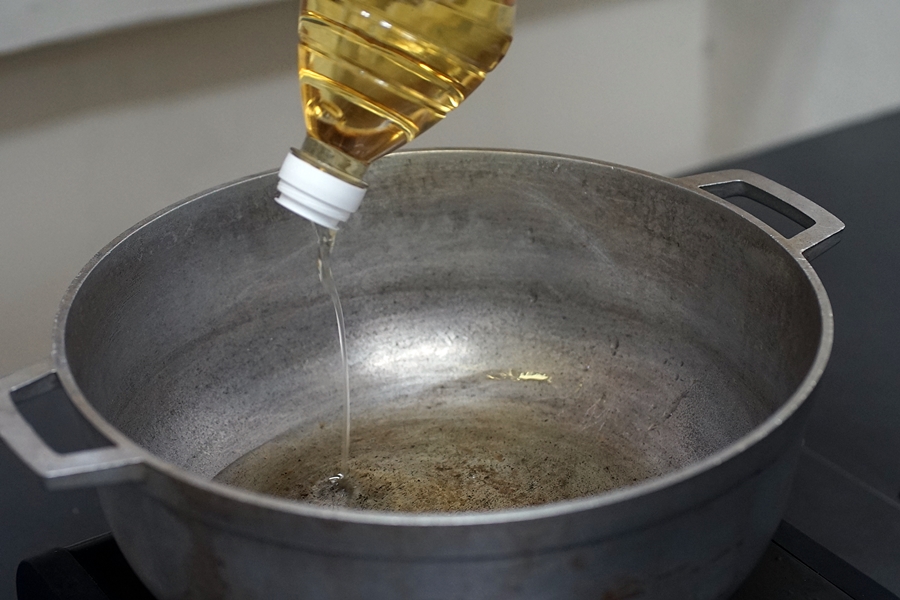 Accras require deep frying, so pour enough oil in a deep pot to almost cover Accras. Allow it to heat up.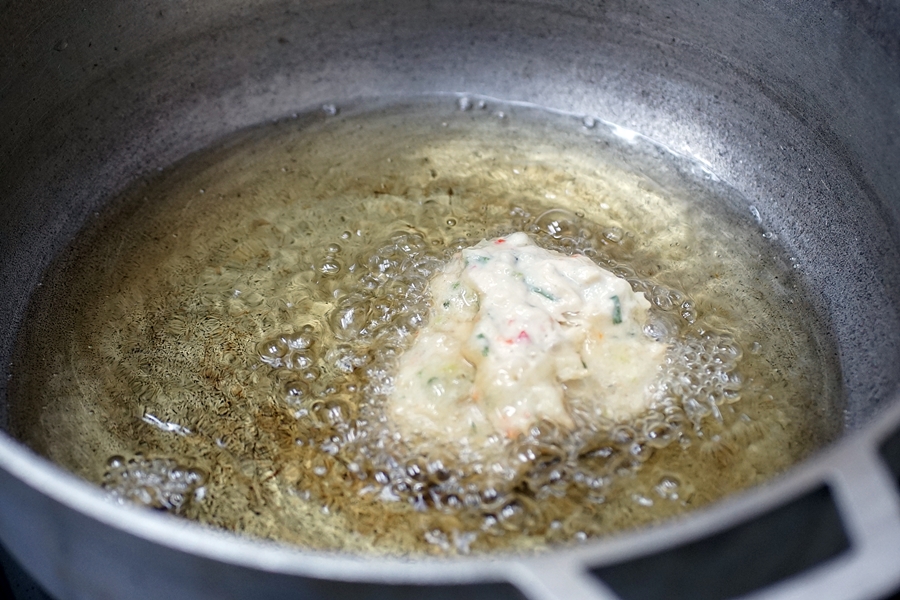 Using a spoon, put a generous scoop of your mixture into the hot oil. You want large Accras with enough area to cut open.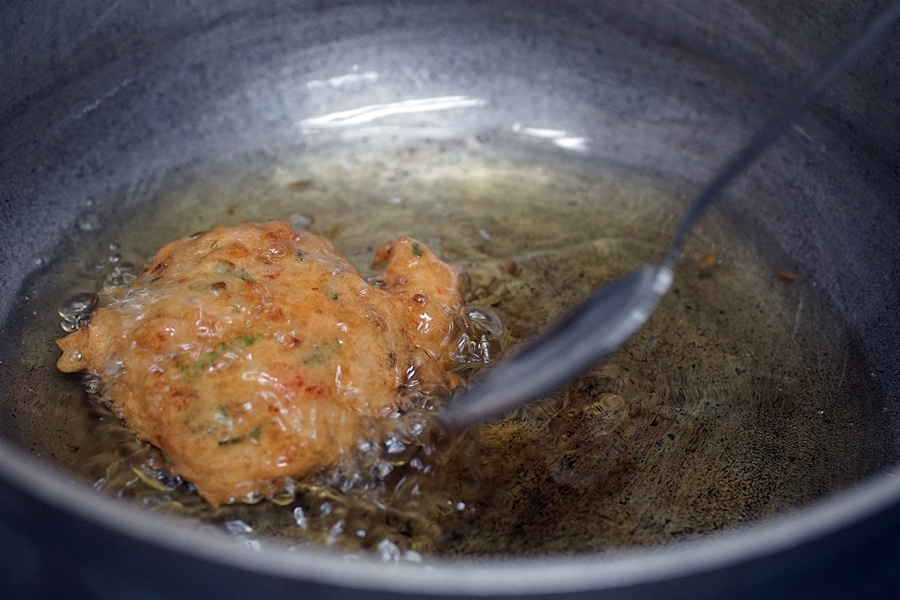 While frying, use a clean spoon to scoop hot oil onto the Accra to help it cook faster. This also reduces the chance of the raw mixture sticking to the pot when it is flipped.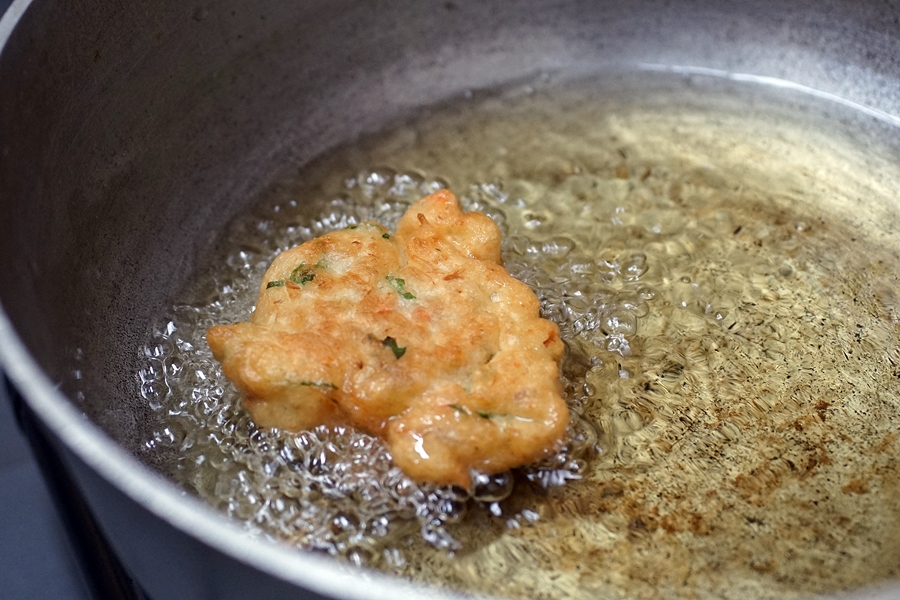 When it is golden brown, flip the Accra to cook the other side.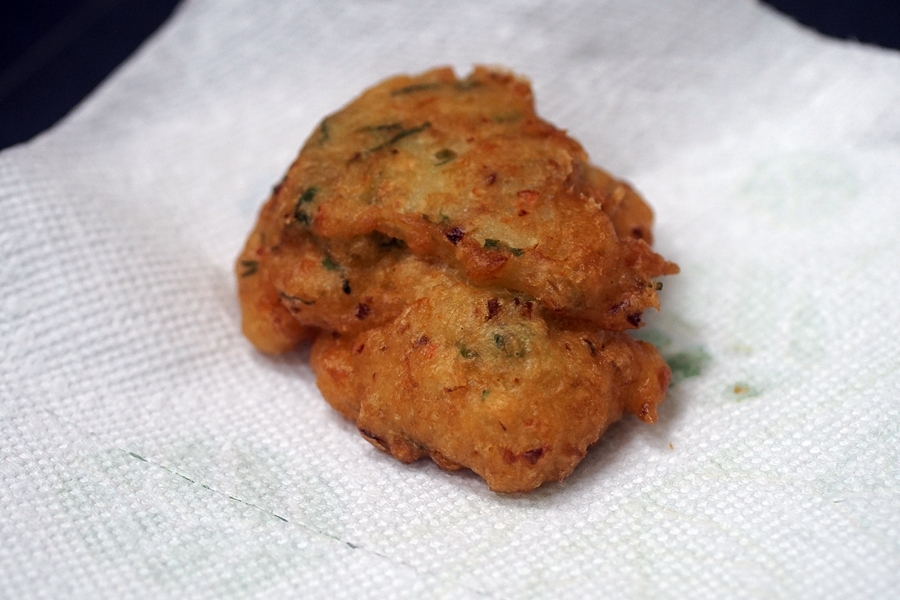 When the entire Accra is evenly brown and crispy, take it out and place it on paper towel to cool a bit and drain out excess oil..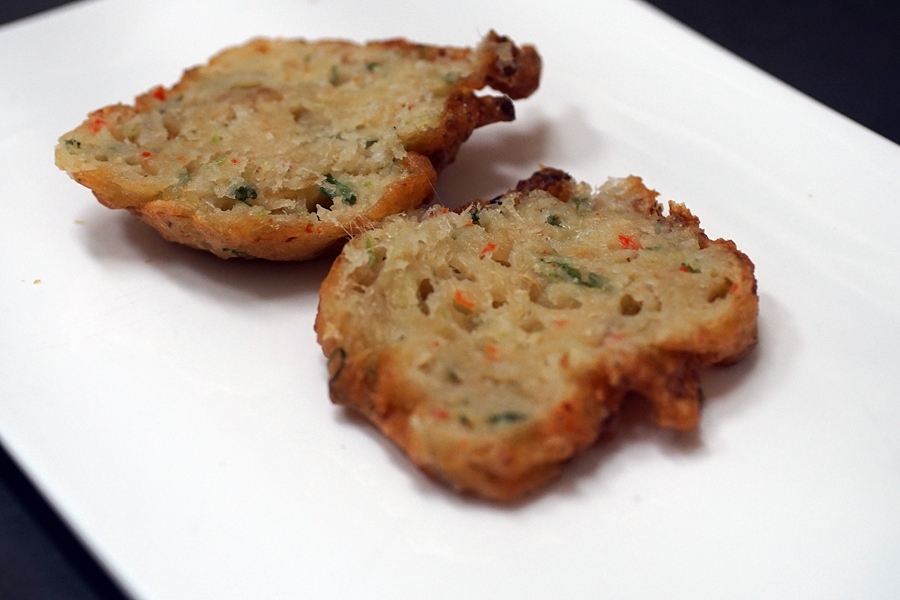 To serve, slice the Accra open.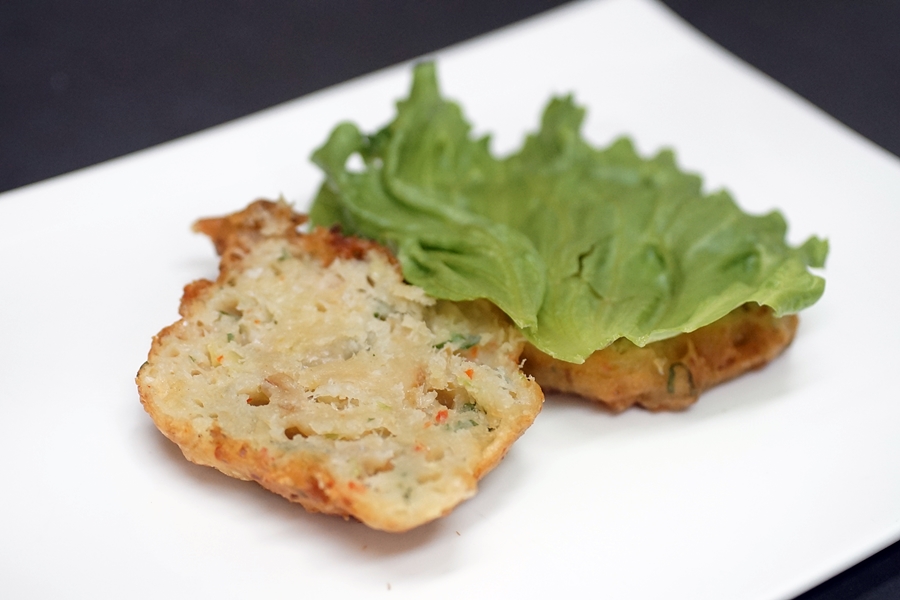 Place a piece of Lettuce inside.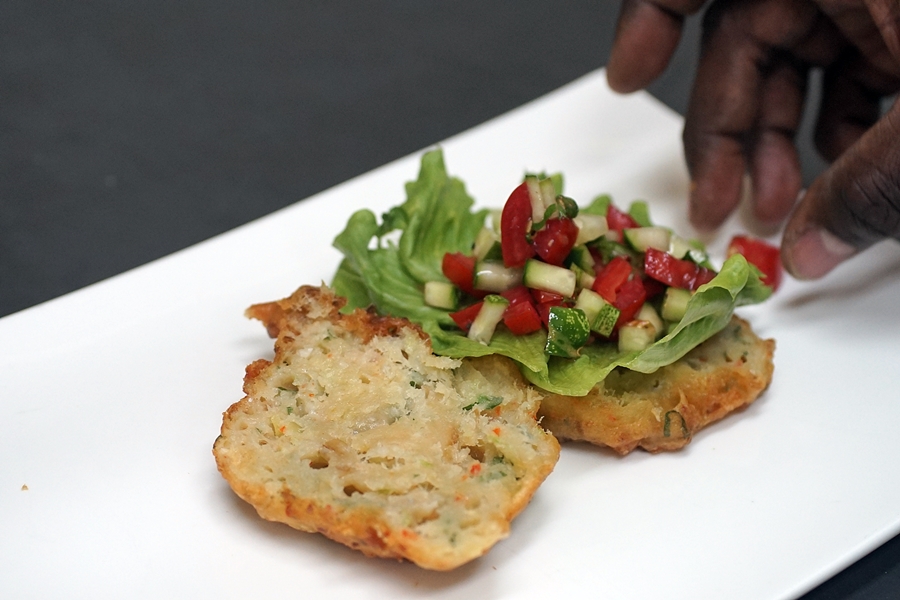 Then load it with a spoon of the fresh veggie mix.

With the natural juices from the fresh veggies inside, you don't really need anything else, but you're free to include a traditional condiment like Tamarind Sauce or Mango Chutney for more flavor. Either way, the crispy goodness of this simple dish will hit the spot in or out of Lent.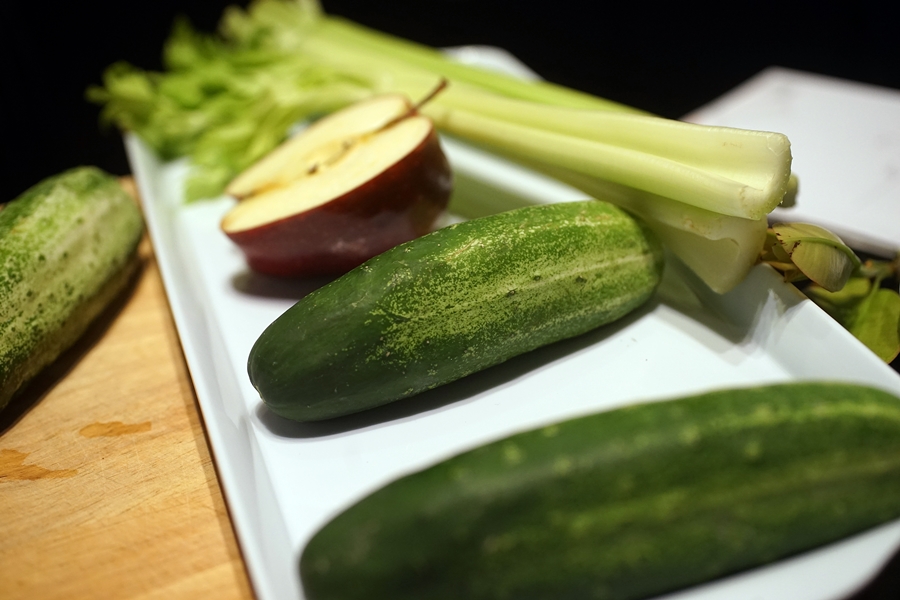 We're always looking for different ways to enjoy the benefits of fruits and vegetables. And for those of us who enjoy the goodness of fresh ingredients, making smoothies can be an easy, fun way to explore natural flavors.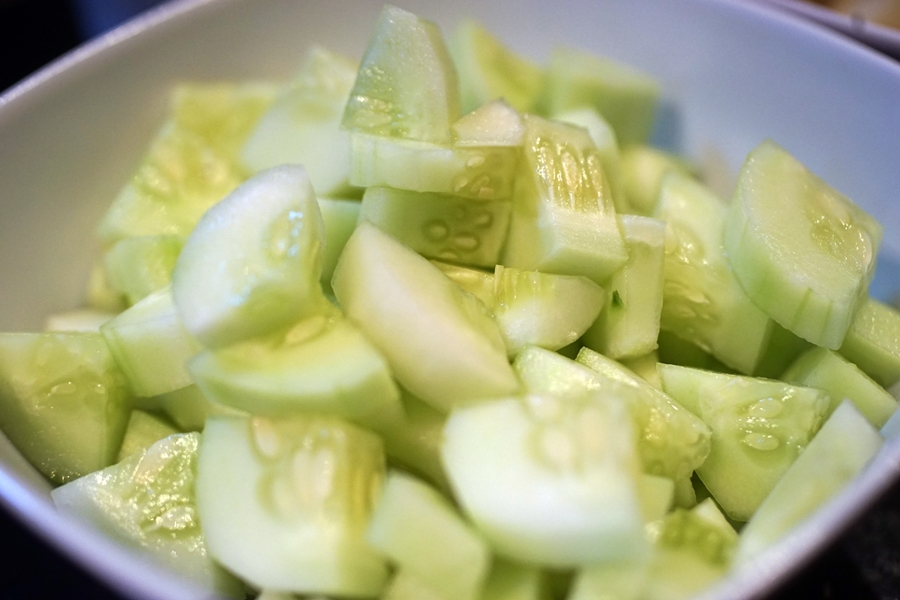 Cucumbers add a refreshing, cooling twist to your smoothies. Great for hot days or cool evenings.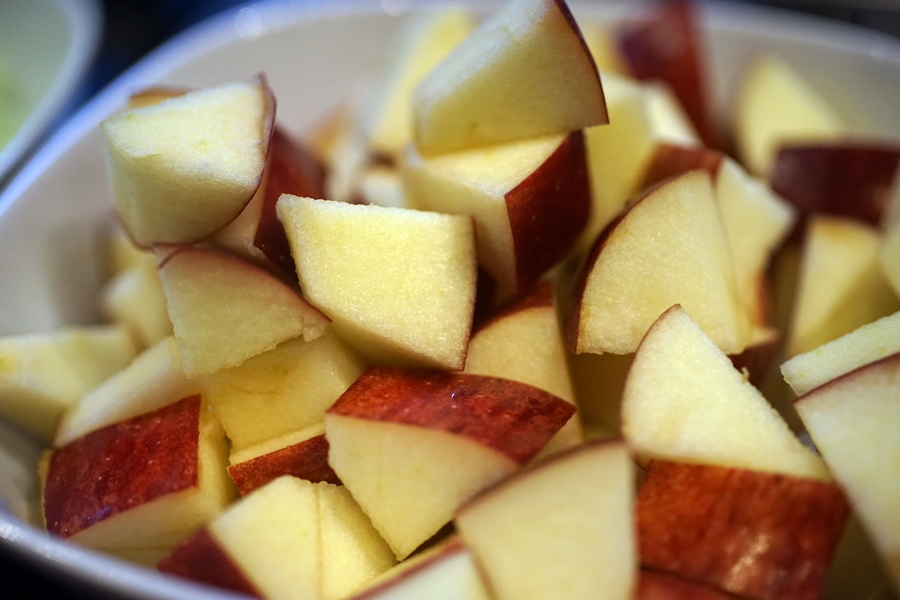 Fruits like apples bring their natural sweetness to the table and add to the texture of a smoothie.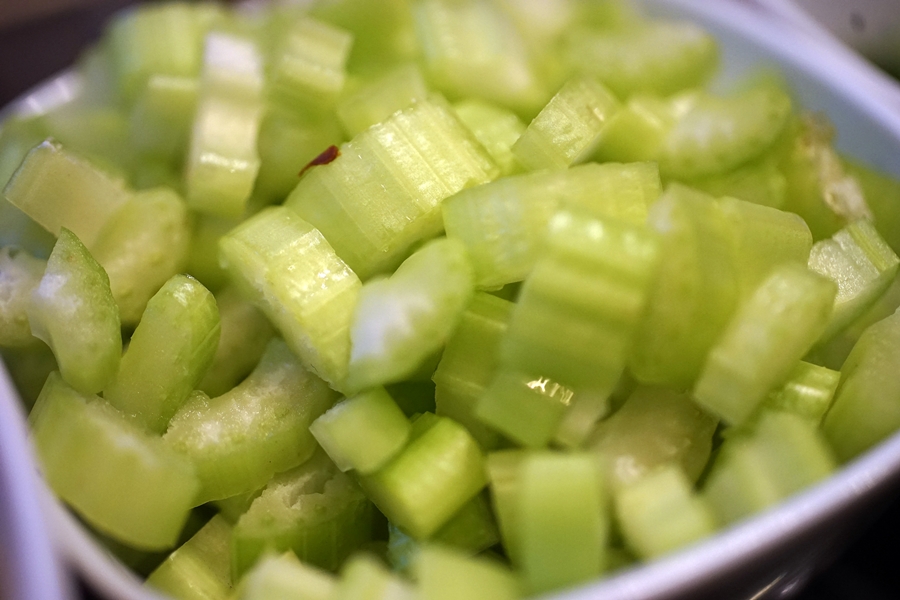 Flavors like celery add a touch of earthiness that can give a smoothie a unique, interesting twist.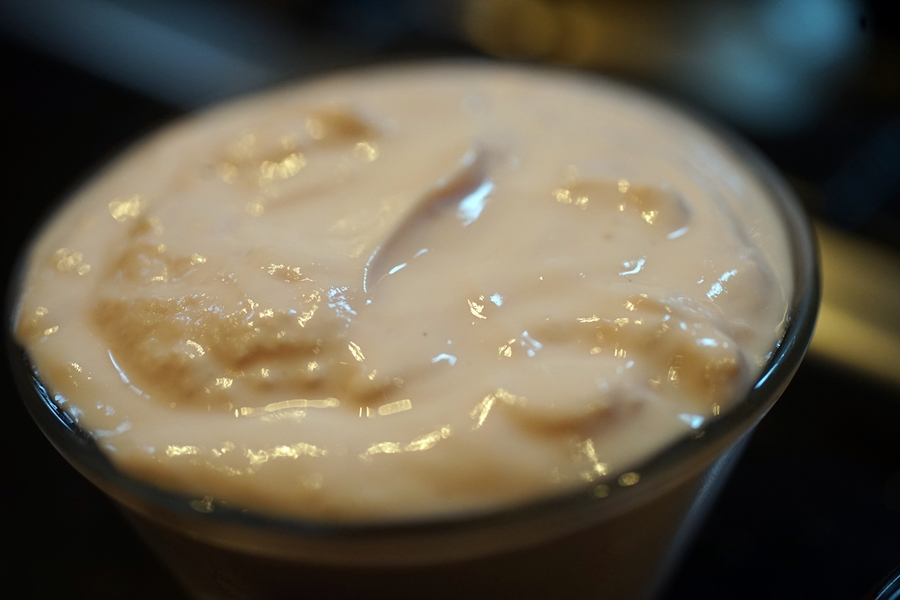 Fruits and vegetables are great in smoothies on their own, but dairy products like yogurt can enhance flavor and texture.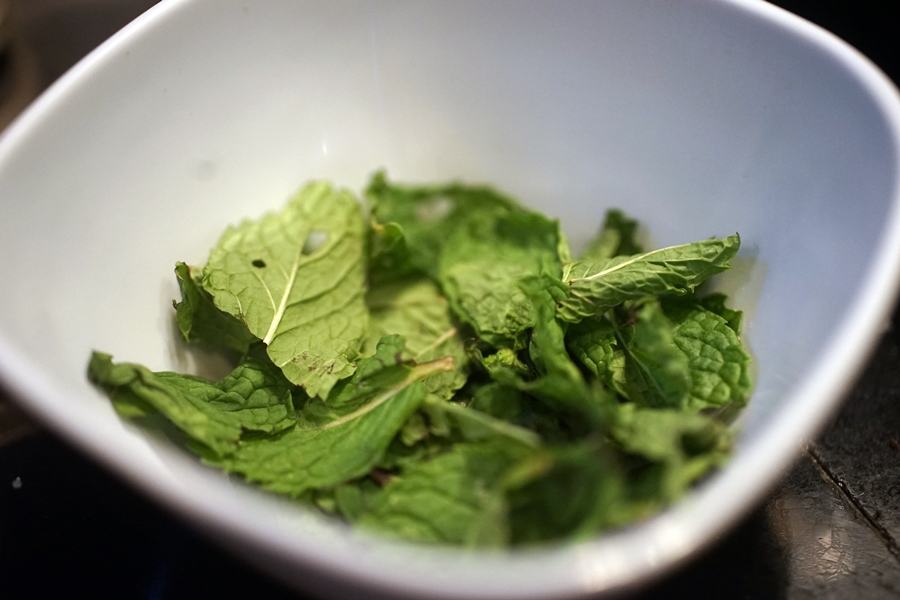 Don't shy away from strong flavors like mint. They're great for taste or garnish.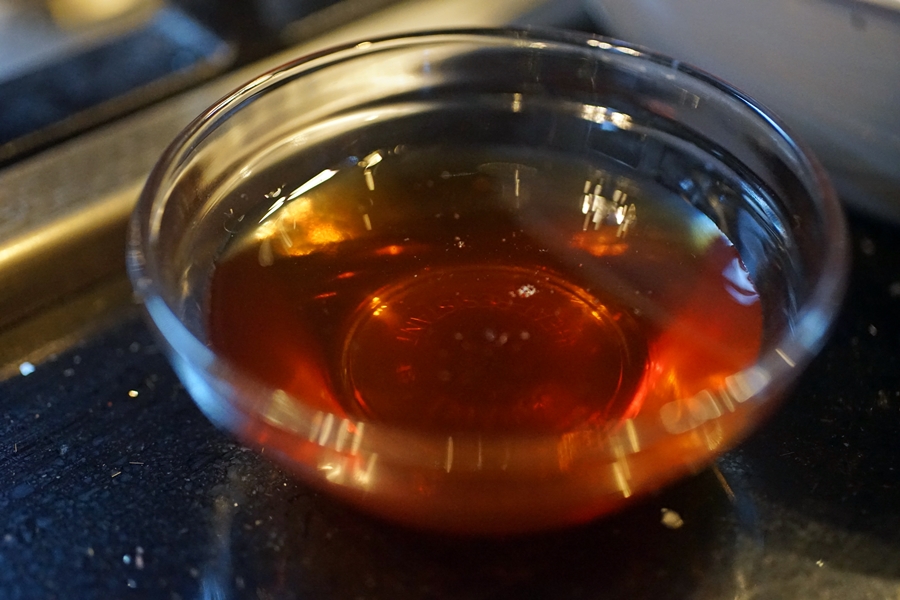 When you're dealing with real, natural ingredients, natural sweeteners like honey are great.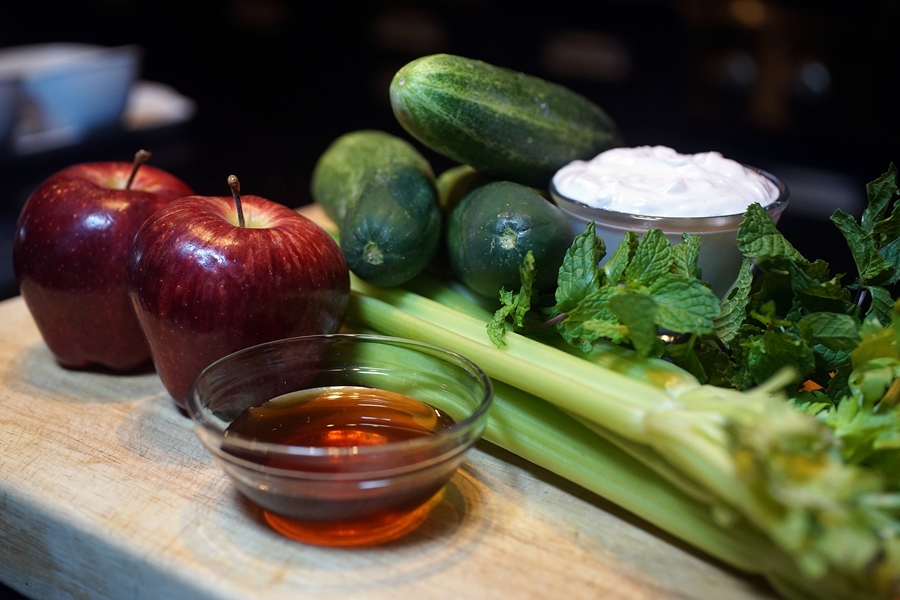 The fun begins when you start getting creative with the blends. We tried apple, cucumber, celery, mint and yogurt.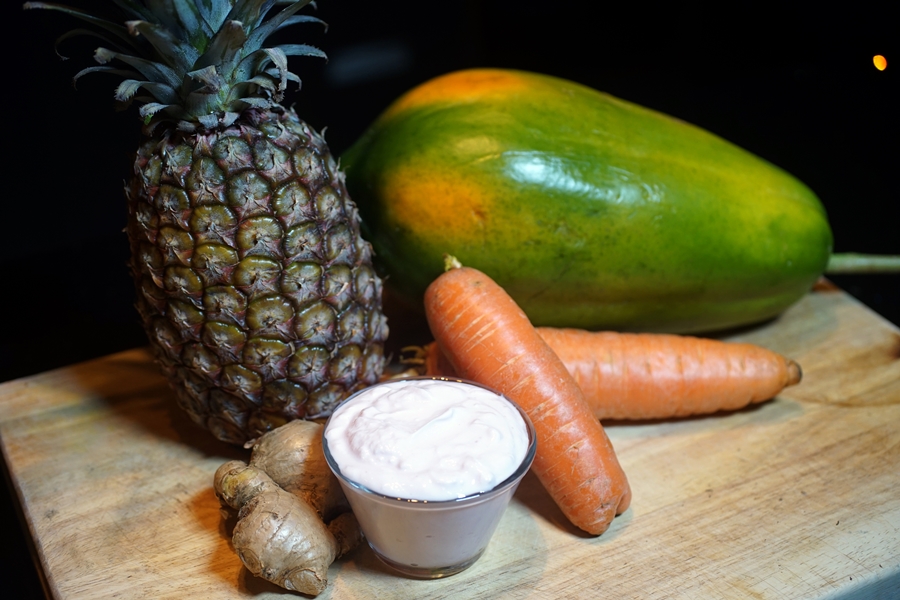 Pineapple, pawpaw, carrot, yogurt and ginger sounded interesting enough to try.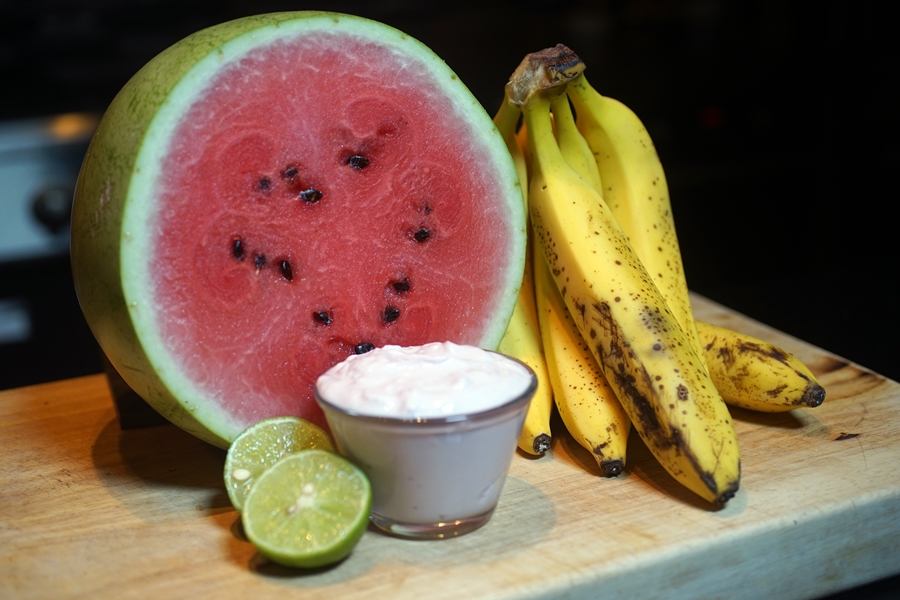 Watermelon, banana, lime and yogurt was another cool combination to explore.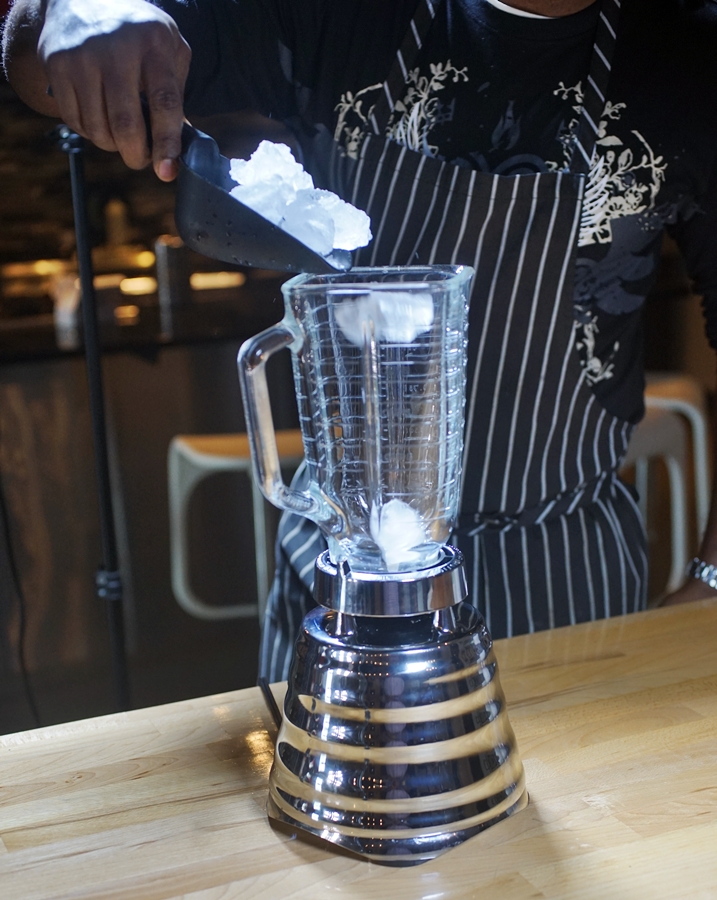 The truth is, there is nothing to it. The process is very simple. Whip out your trusty blender and add some ice.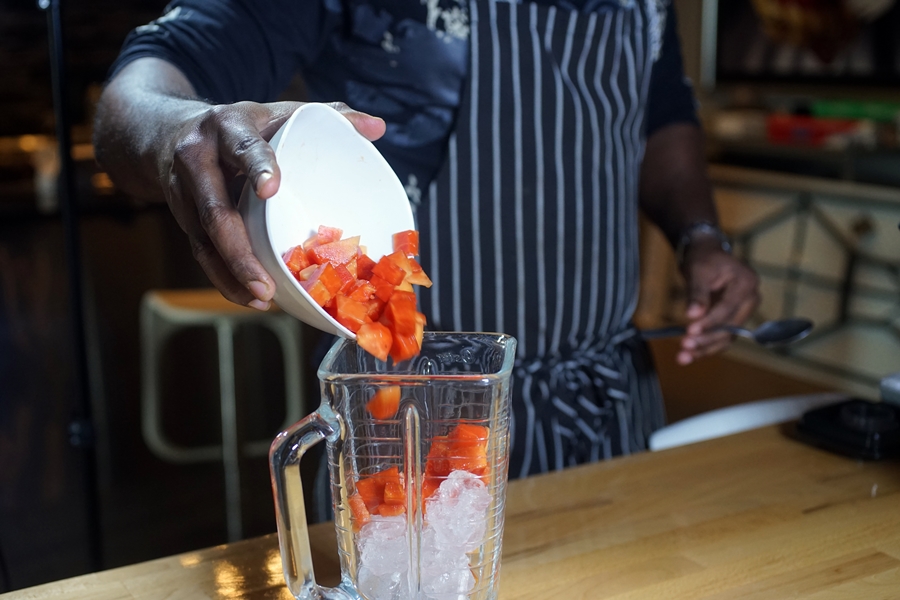 Chop all your ingredients and just pour them in.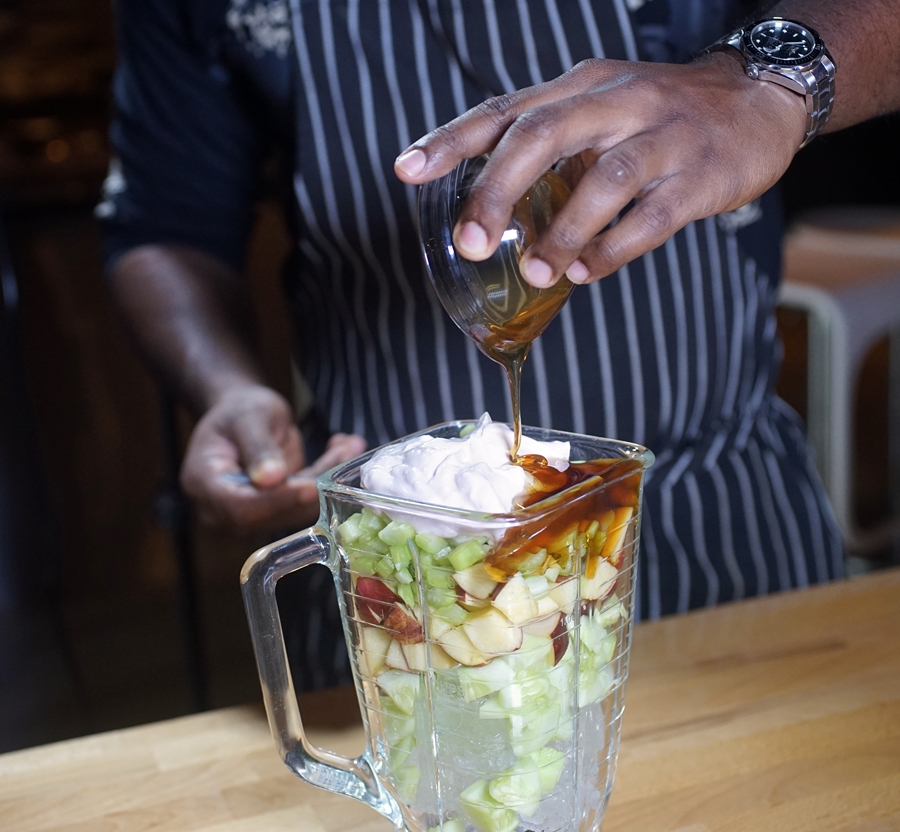 Pour in ingredients like honey and yogurt last.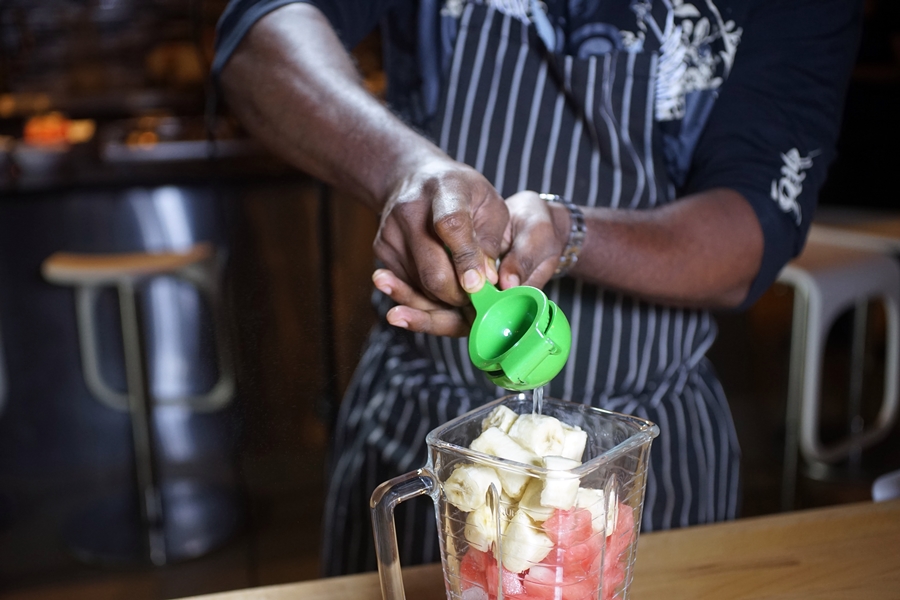 With ingredients like lime, extract the juice rather than adding the whole fruit.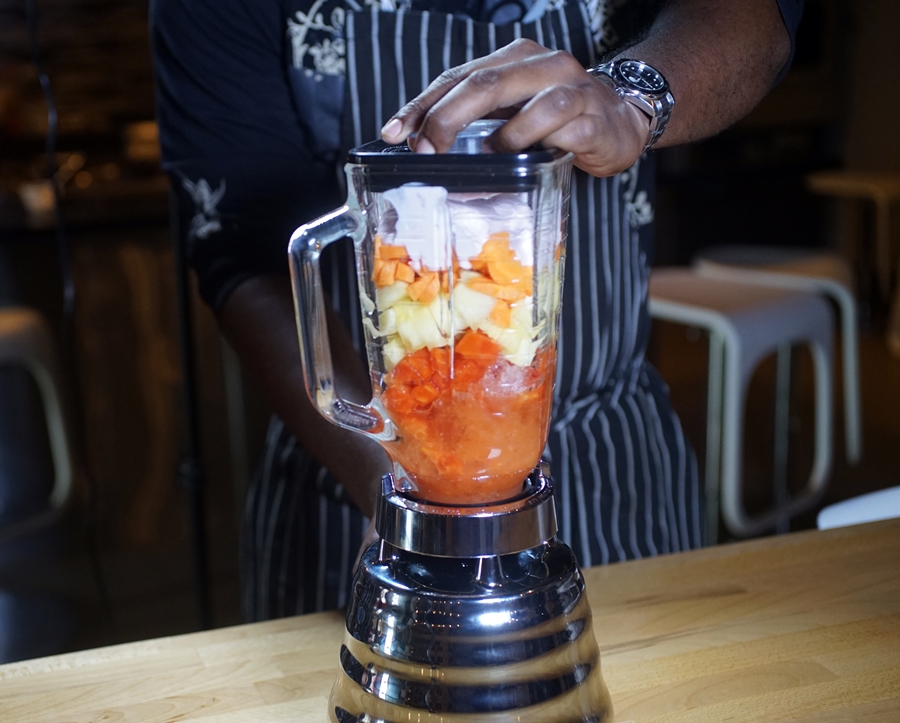 When everything is in, just blend. Pulse the blender to get it going.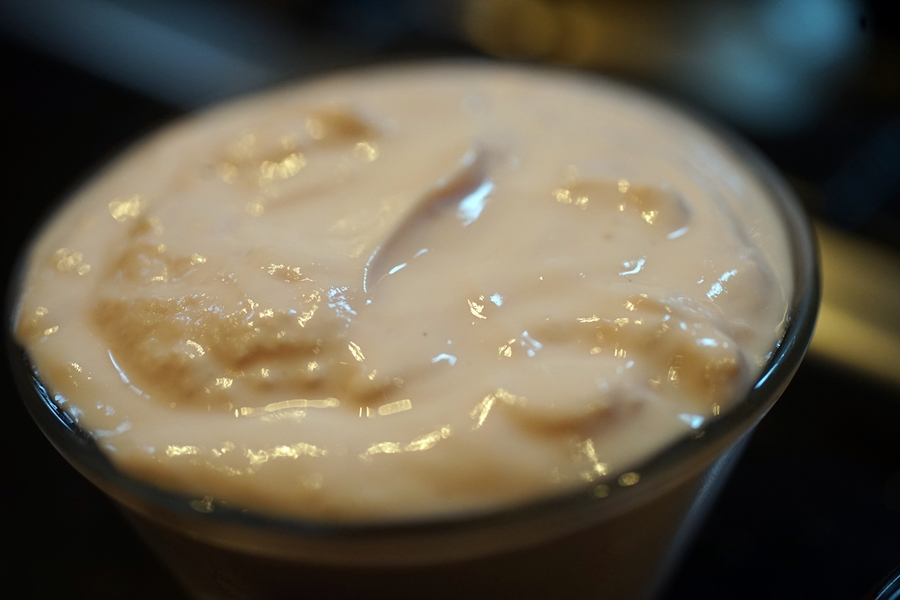 It's not going to be long before everything is blended into creamy loveliness.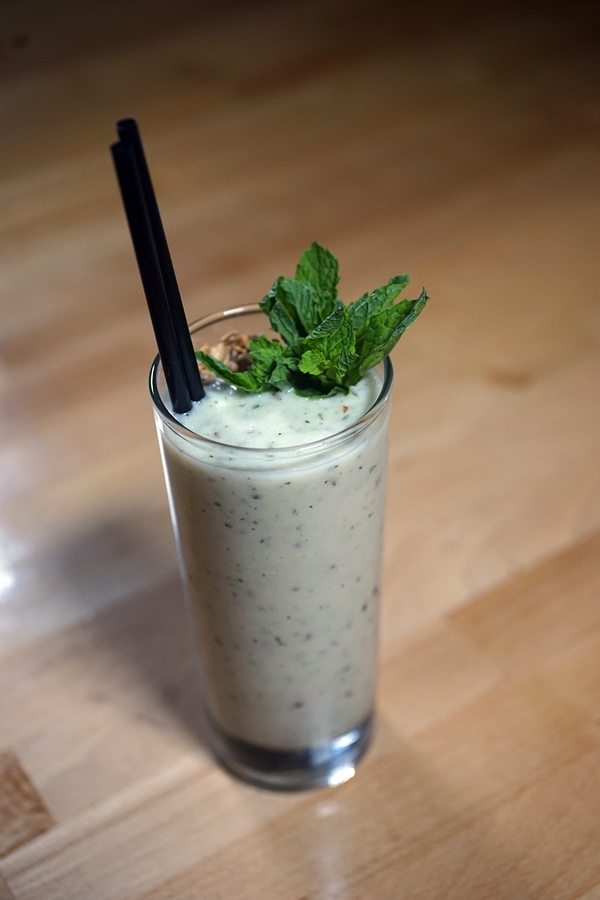 Pour into a nice glass, no ice necessary, and garnish with an ingredient of your choice.
Granola is a nice addition, either as a topping or as a base.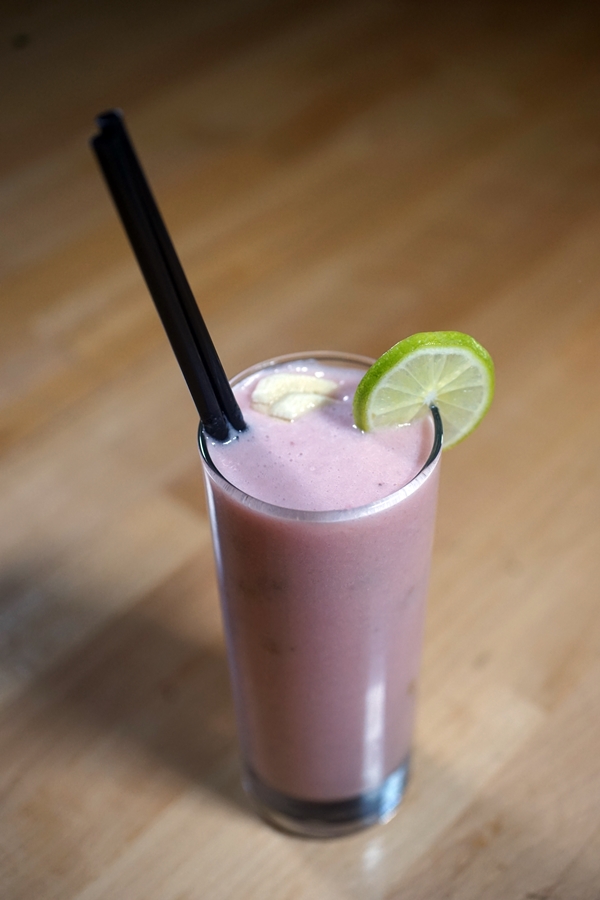 Or just serve it in its delicious natural simplicity. All in all, one of the smoothest ways to get your fruit and veg fix is to dive into the delicious world of smoothies.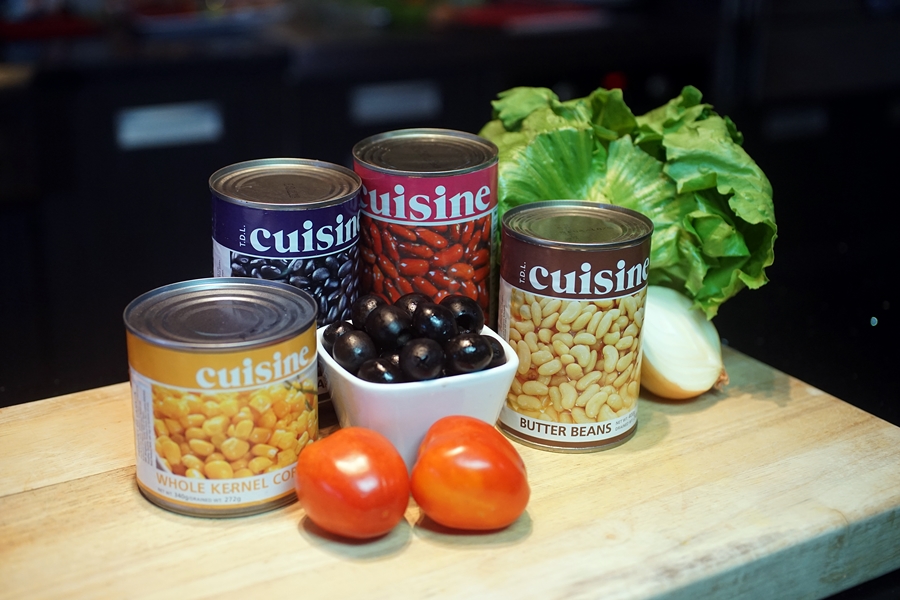 How about some protein power with a tasty twist? Here's a hearty Three Bean Salad featuring CUISINE Black Beans, Red Beans and Butter Beans that fits right into your collection of quick and easy recipes.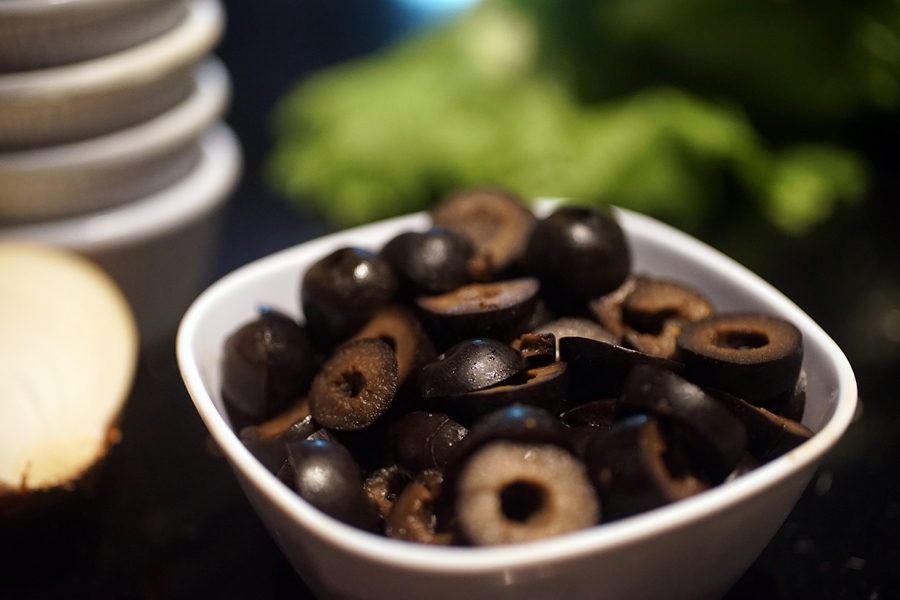 Start by taking the beans out of the can, draining them off and putting them into a large bowl. You can also add CUISINE Whole Kernel Corn and nice bursts of flavor like pitted and chopped Black Olives.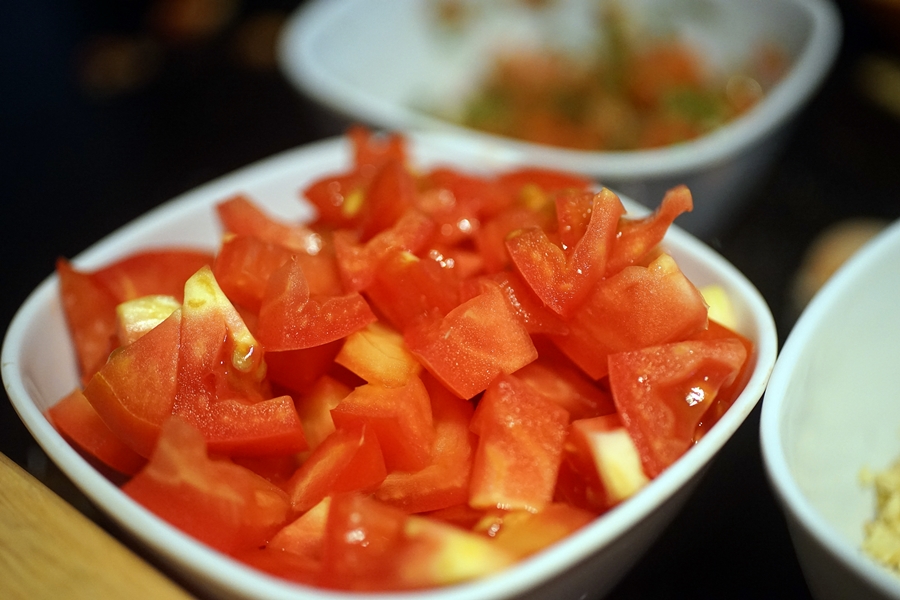 And you might want to add fresh, juicy vegetables like tomato and cucumbers. Just chop them up and add them to the bowl.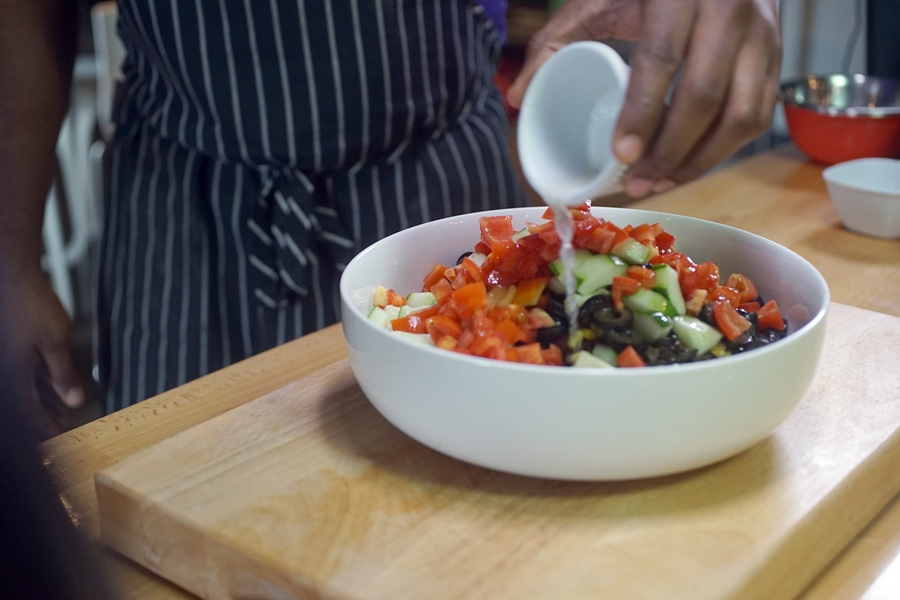 With all the beans and veggies in, add some lemon juice to brighten up the salad.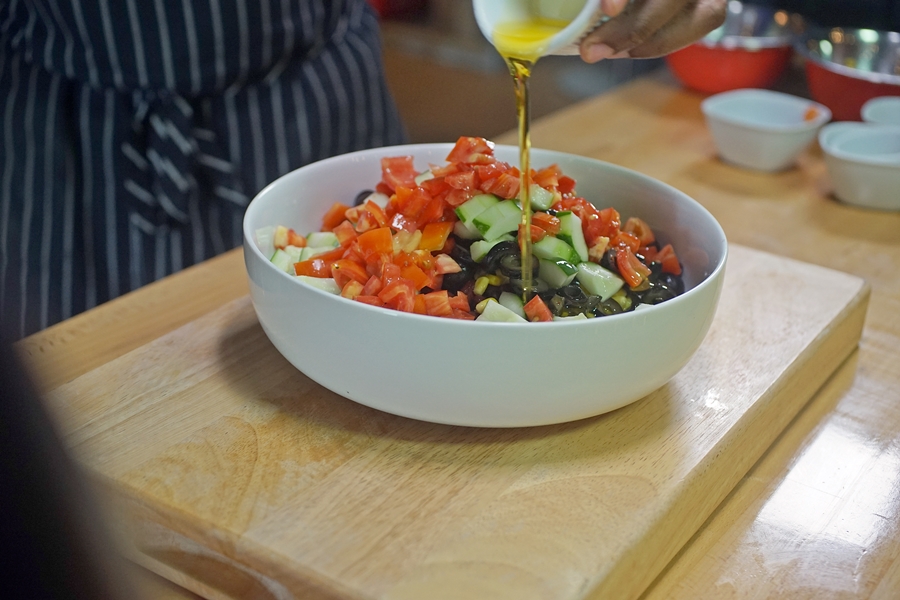 You can choose to go all earthy or add a little Olive Oil for that Mediterranean twist.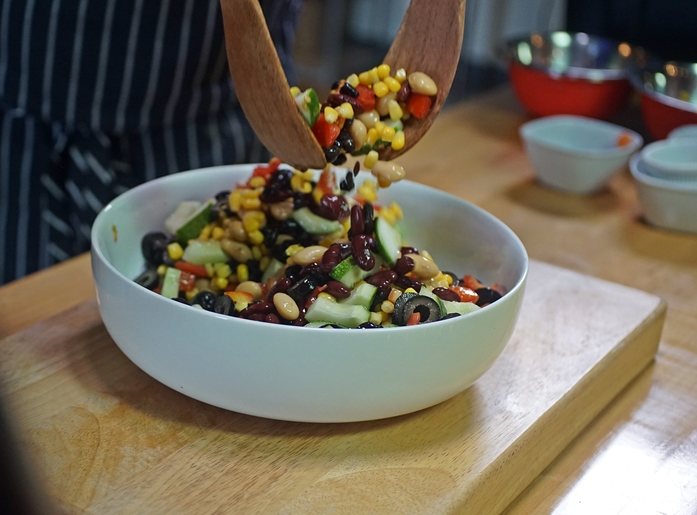 Then, comes the easy part. Toss everything around to distribute all the elements evenly. At this stage, you can also decide to add a little salt and black pepper to taste. Or maybe get creative and try your own herb or spice blend.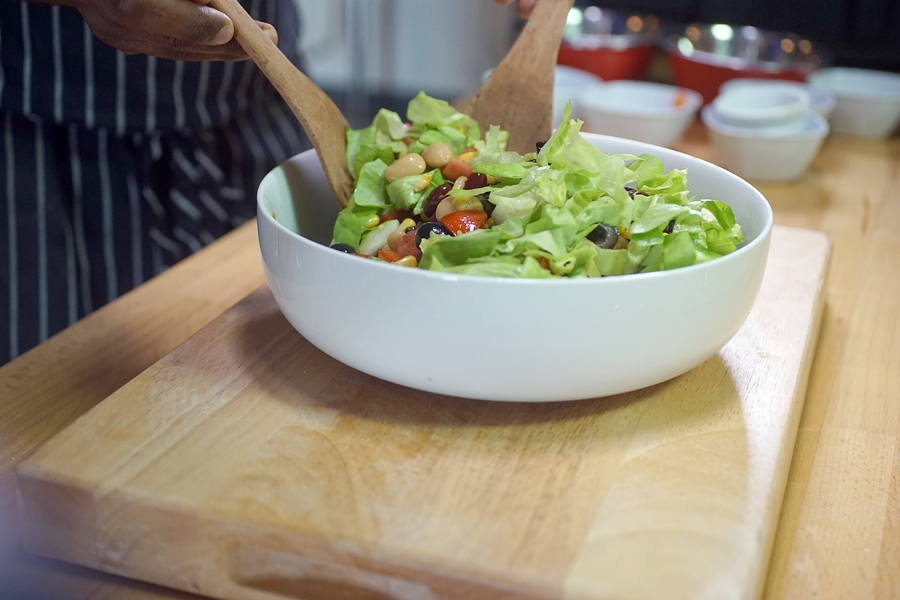 When everything is evenly mixed, add fresh lettuce and toss gently to distribute.
It's a versatile dish that you can use as a side, add meat and enjoy or just have it on its own. That's all up to you.
The fasting period is over, so we welcomed dairy back into our ingredients list with this Cuisine Rice Pudding idea or Sweet Rice as we commonly call it. We thought it was easy and the end result made it a pretty delicious project.
With names like Rice Pudding or Sweet Rice, it would be pretty confusing if the main ingredient wasn't Cuisine Rice right?
Here's the most customizable part. You can flavour this dish with your own selection of spices. We used Clove, Ginger, Cardamom, Cinnamon, Nutmeg and Bay Leaf (aka Bae Leaf if you're cooking for your significant other). You can try the flavours you like.
It was pretty much a case of adding everything to a pot and bringing the mixture to a boil over a medium flame. Starting with the Cuisine Evaporated Milk…
Some Cuisine Full Cream Milk…
Then some Cuisine Sweetened Condensed Milk. Stirring gently to get everything combining evenly.
In with the Clove, Cinnamon, Bay Leaf and Cardamom to start infusing into the liquids.
When things started to bubble, we added the Cuisine Rice. We added just a little more Cuisine Full Cream Milk to make sure there was enough liquid covering the rice for the rice to cook before all the liquid reduced.
Then the constant stirring began. We treated it like Cornmeal or Risotto, managing it all the way.
Halfway through, we brought in another layer of flavors. Grated some Ginger in there…
And the Nutmeg too.
After a while, the liquid reduced to where we could see the rice. We turned the fire down a bit so the bottom wouldn't burn. Still stirring gently all the while.
Then the rice released its starch and the liquid thickened up.
For some natural sweetness, we added some dried Cranberries and Blueberries.
You can serve this many ways. Some take it off the heat while it has a lot of liquid. Some put it in the fridge to cool and serve it chilled. We let it reduce to a thick consistency and put a warm scoop on a plate.
Garnished with some more Blueberries and Cranberries and there you have it! Mission accomplished. A tasty snack, dessert, breakfast, whatever. Give it a try your way and let us know how you do yours.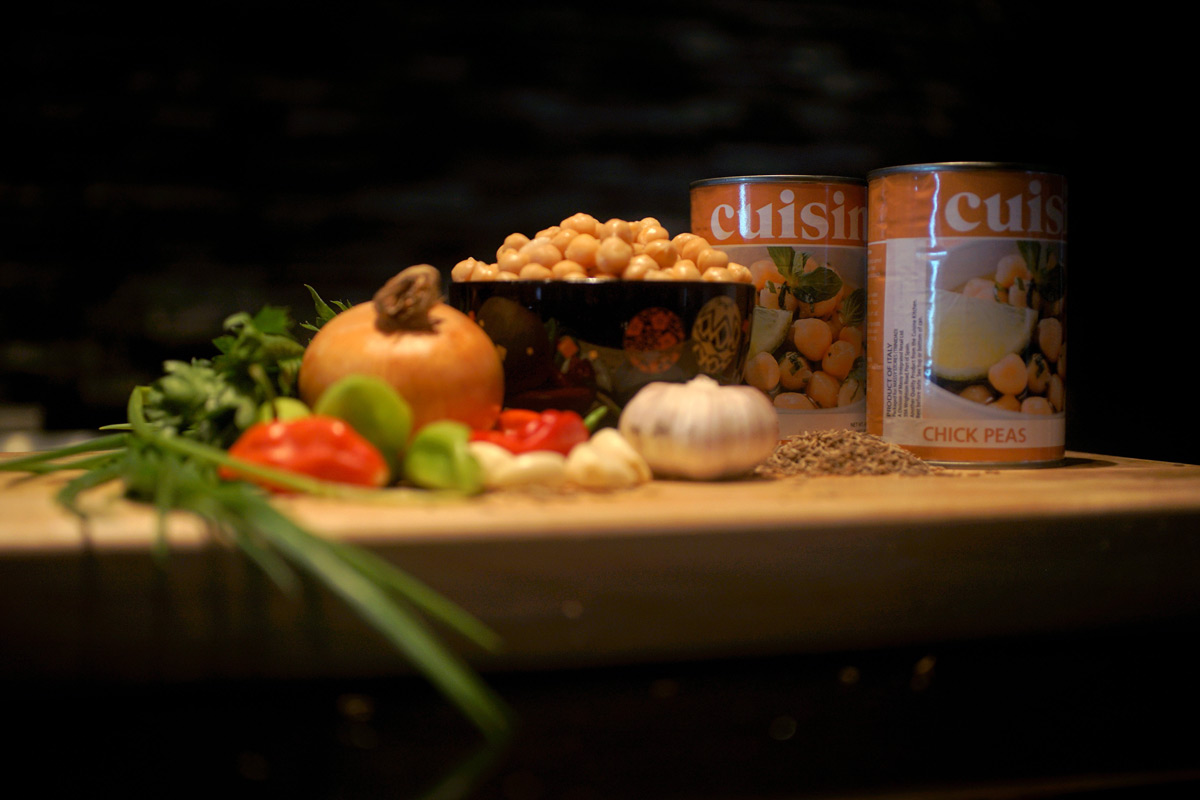 No meat or dairy doesn't mean no fun. You can still have lots of fun and flavor with just a little creativity. Here's a nice CUISINE CHANNA BURGER idea we tried out using items from MASSY STORES. Maybe you can have some fun trying it out too.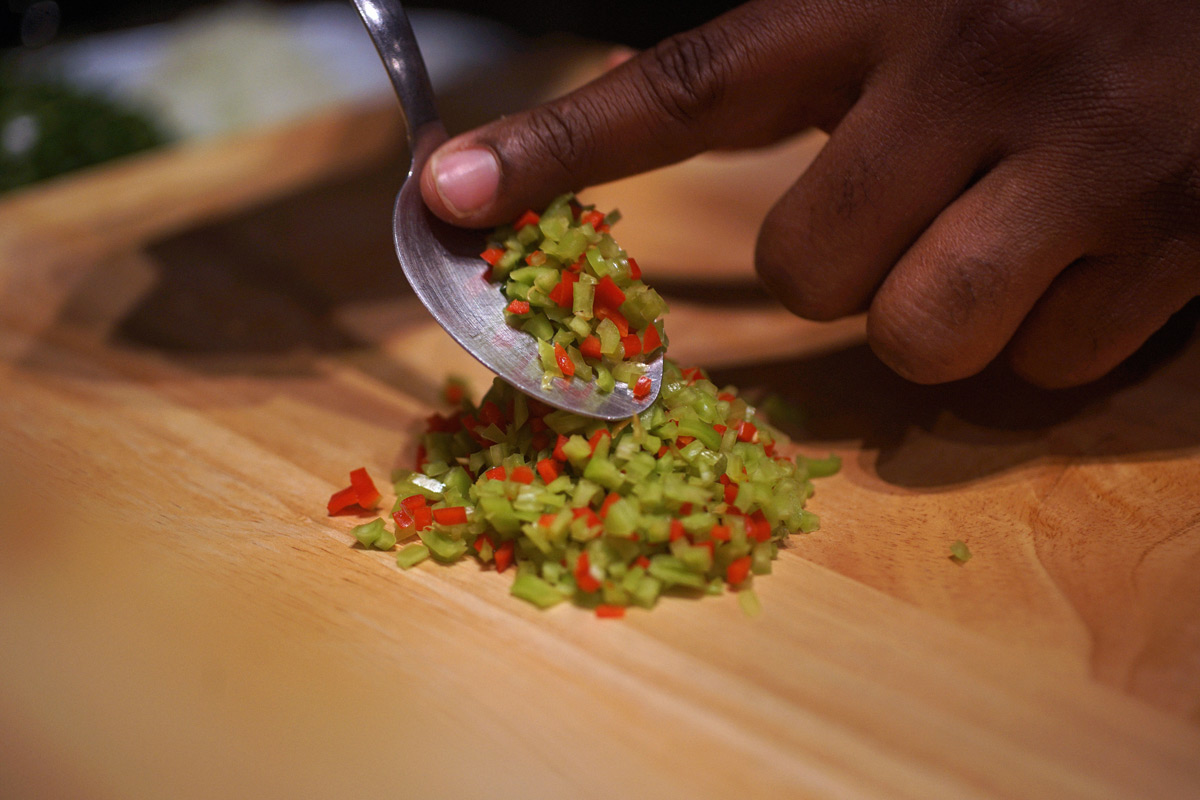 We diced some Pimiento Peppers. About 3 or 4 for a nice mellow spice.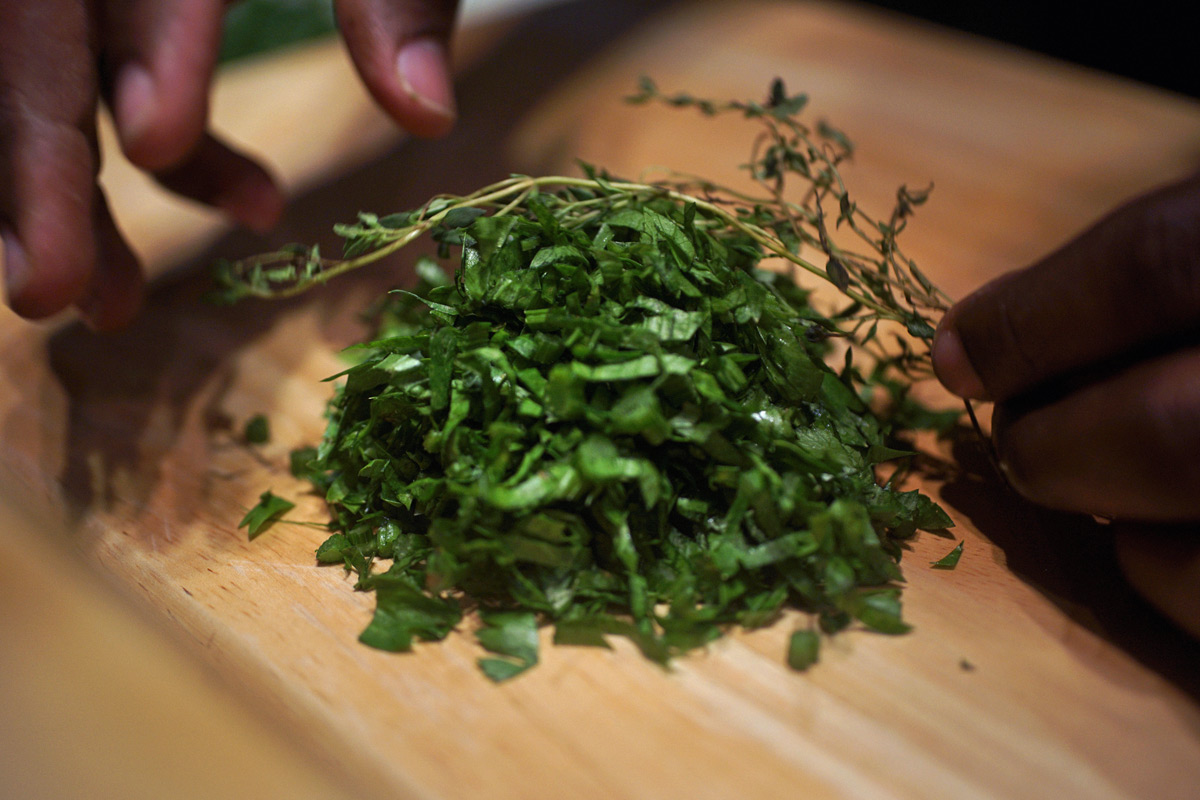 Rough chopped some Celery and pulled a little Thyme.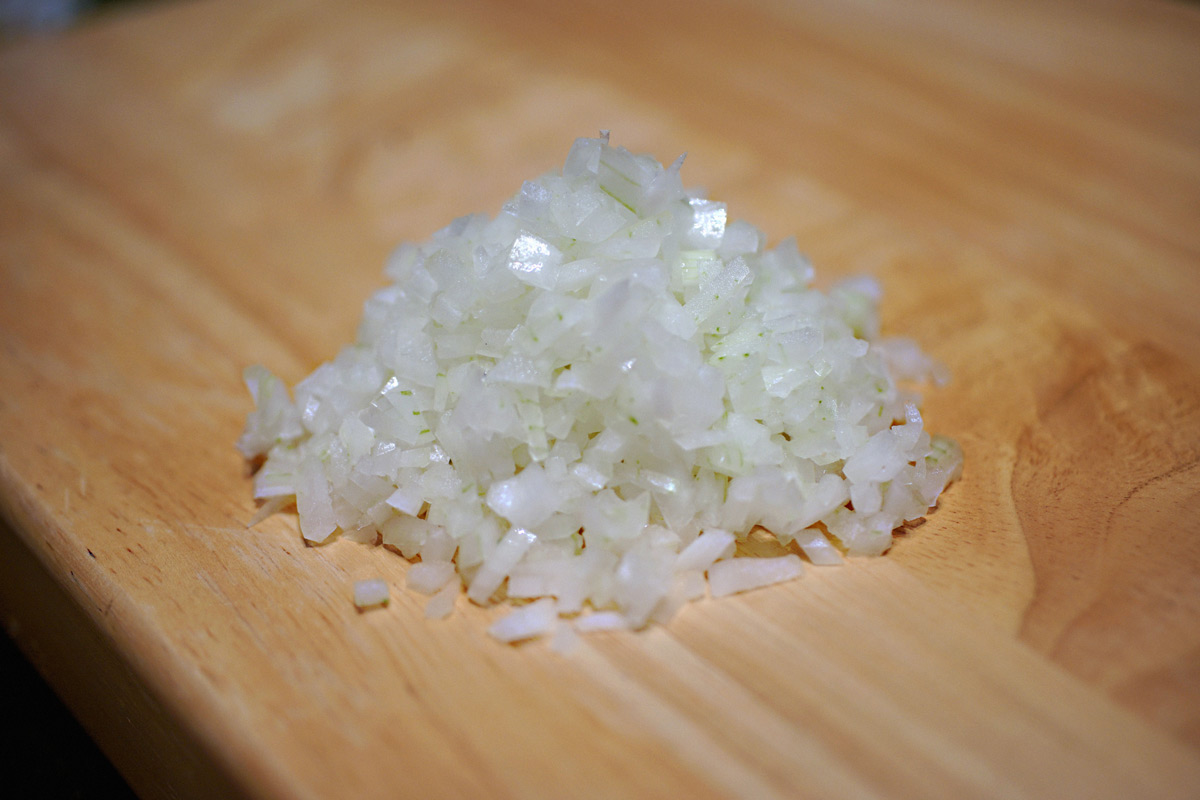 Diced some Onion.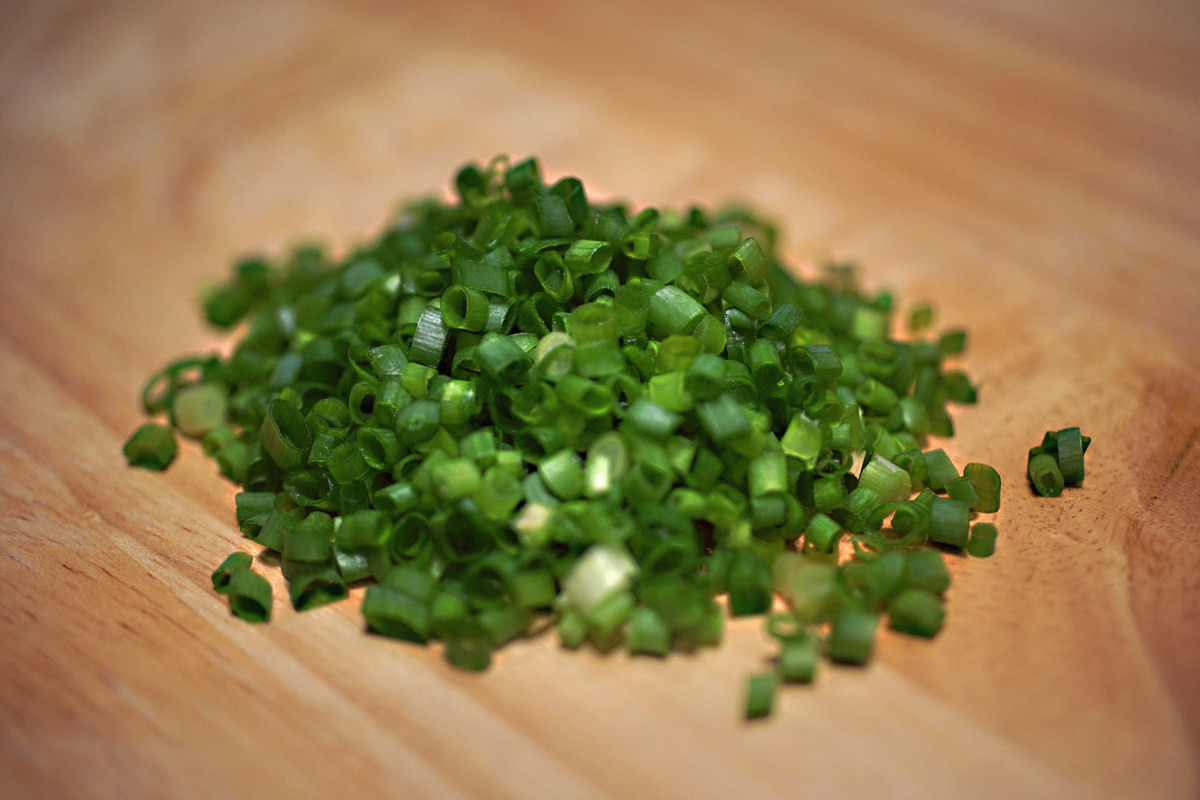 Since we had Onion and Celery, we didn't really need Chive, but we wanted to try some extra brightness for a bold flavor.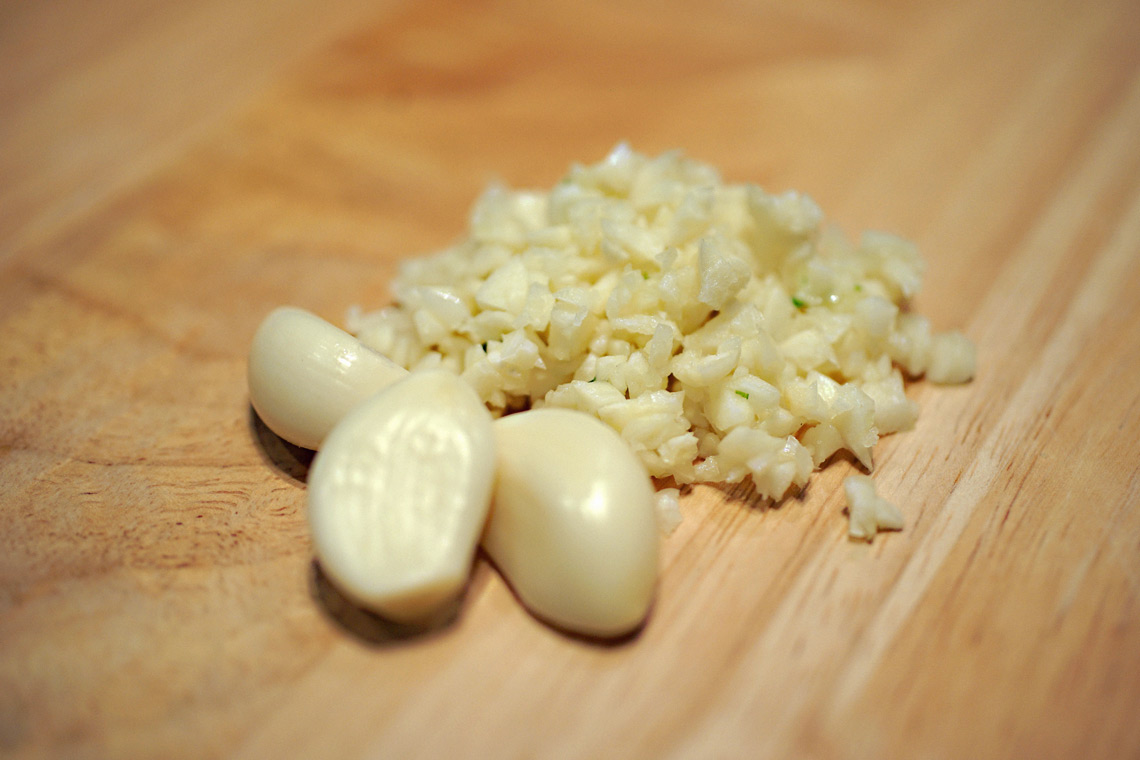 Garlic on the other hand… That was a must.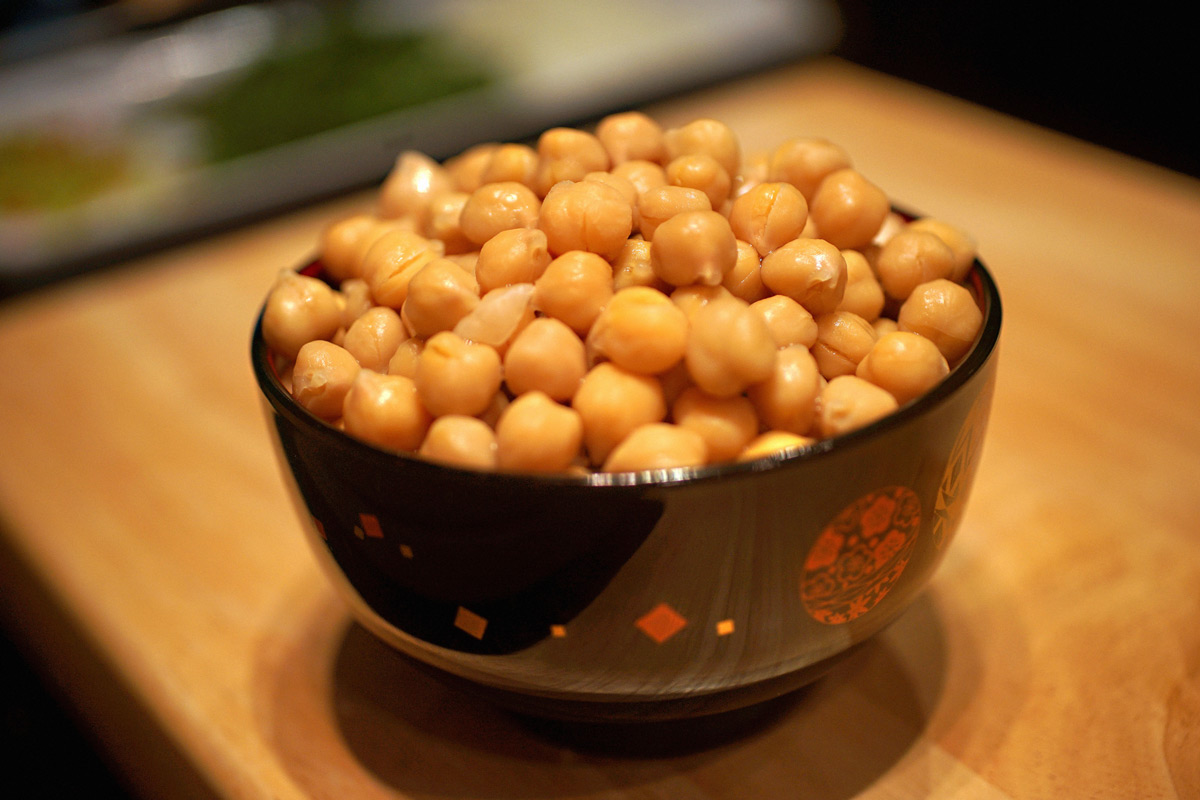 And the star of the show, Cuisine Channa.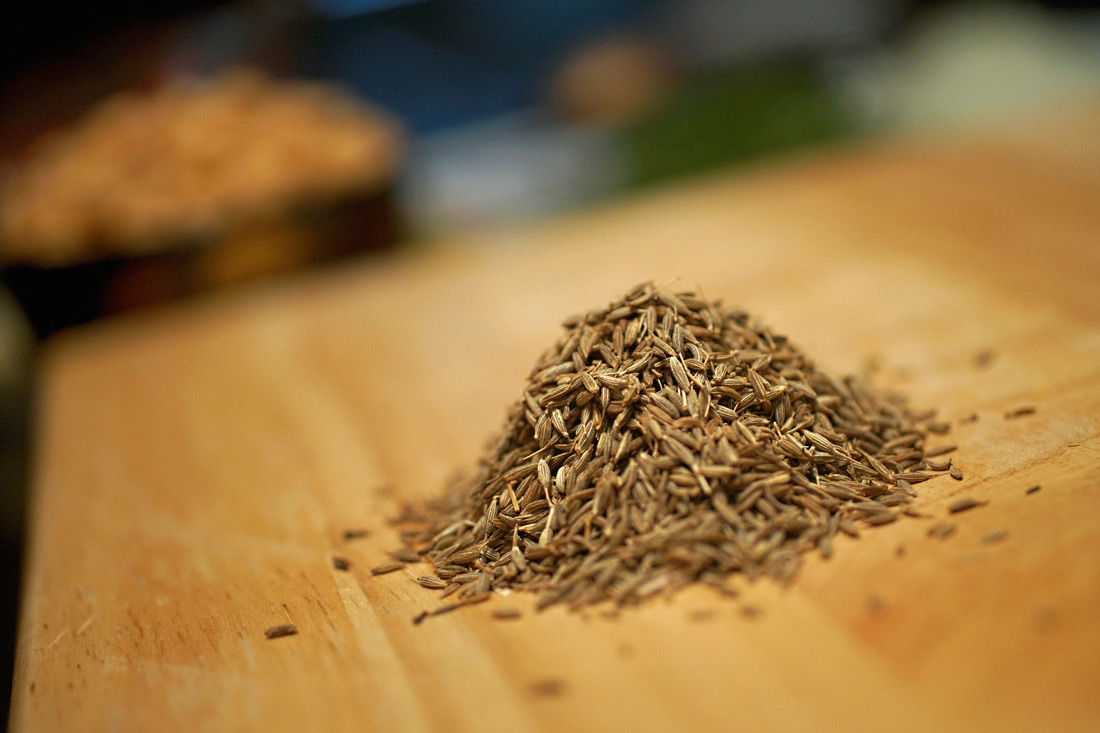 To give it a little Indian spice, we decided to use some Whole Geera. Also known as Cumin on the shelves.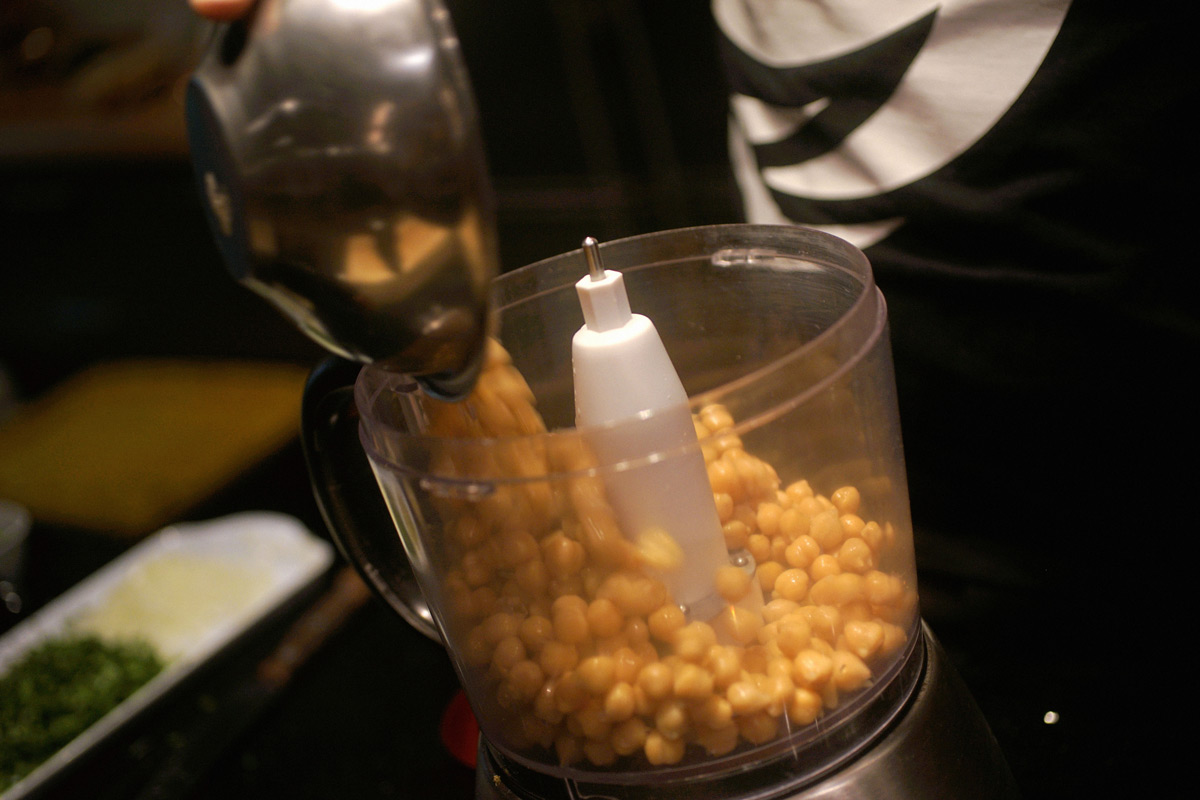 Into the food processor. Looking to break this down a little.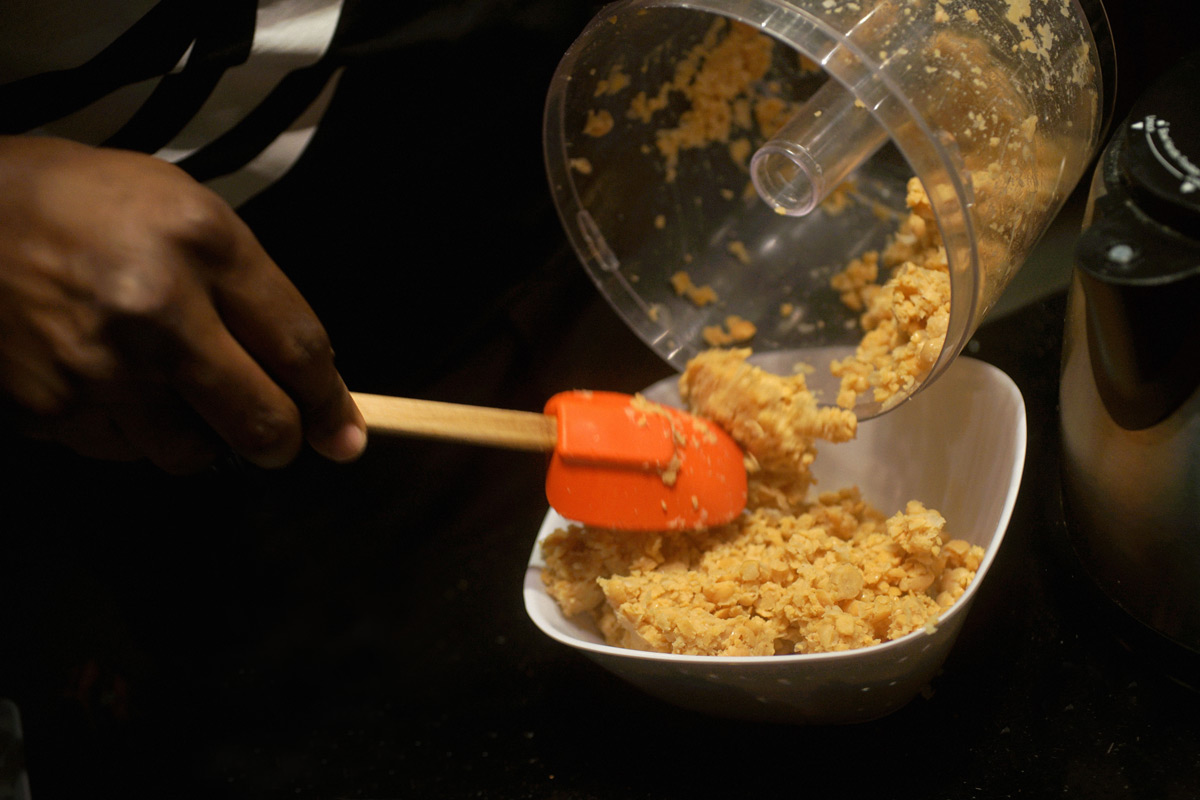 Important phrase here "a little". We were going for a rough mixture with chunks of Channa for an interesting texture.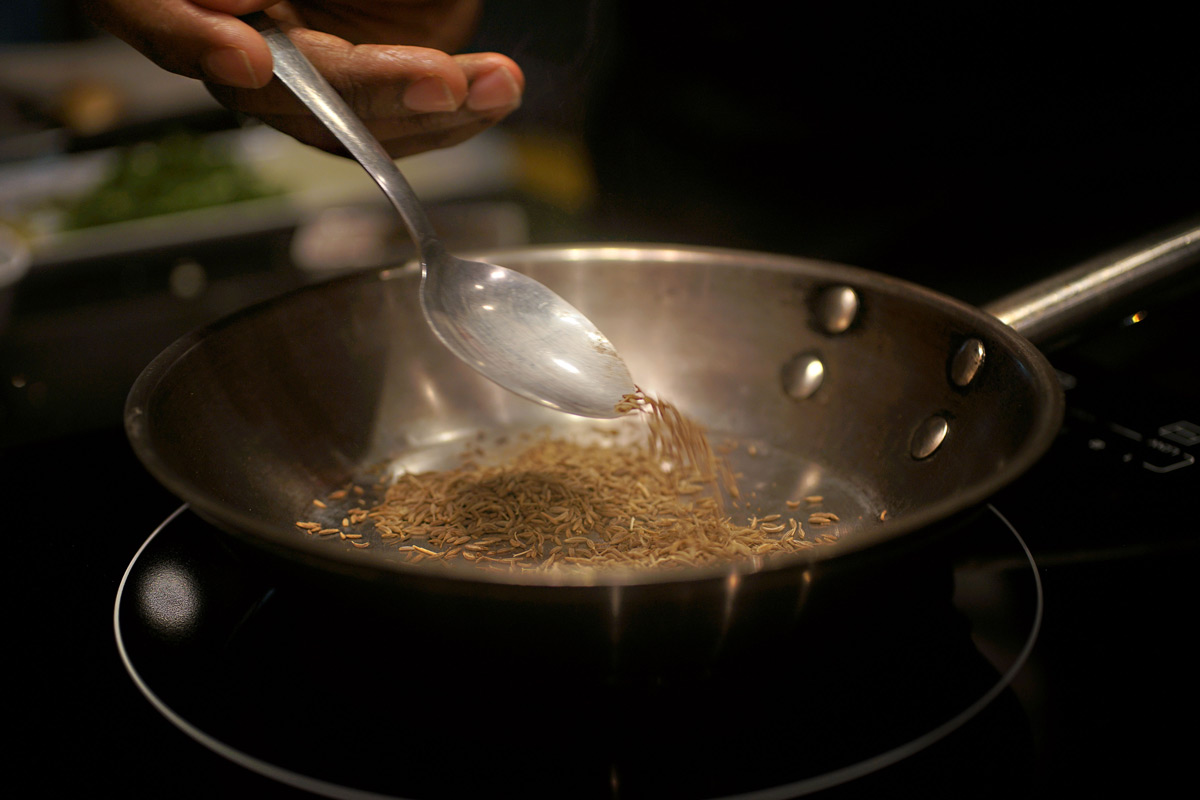 In a hot pan, we toasted the Whole Geera. Just enough to get it slightly darker and fragrant.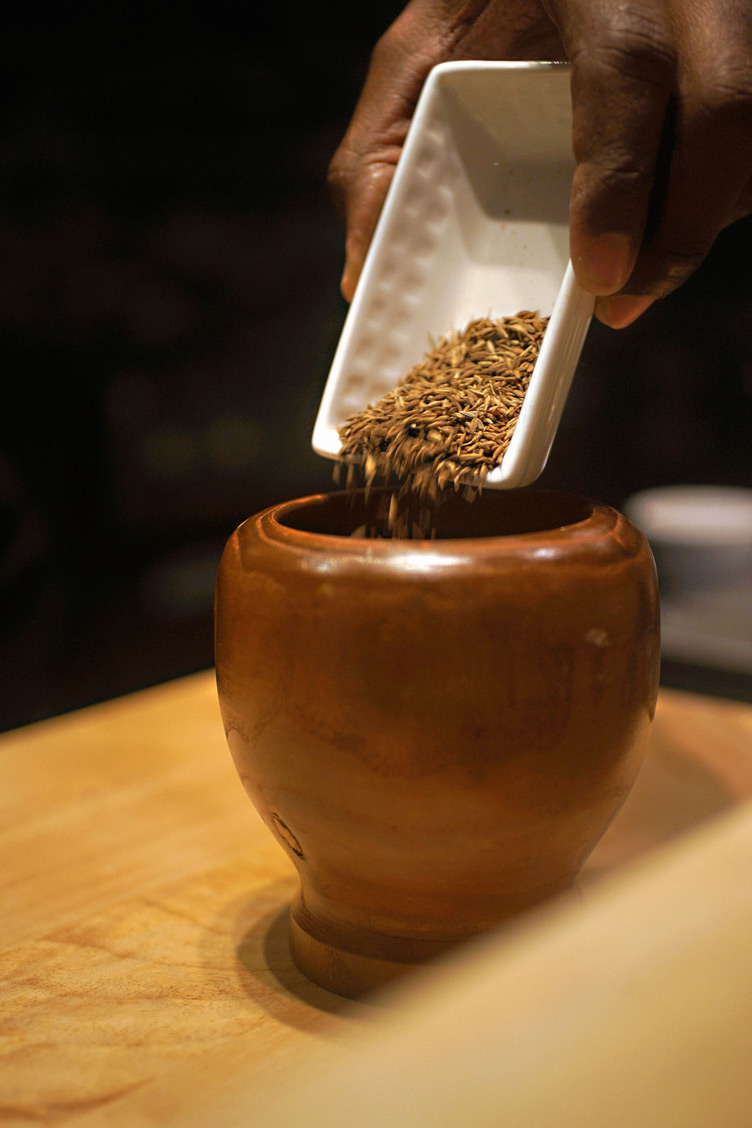 To unlock more flavor, we cracked the seeds with a course grind.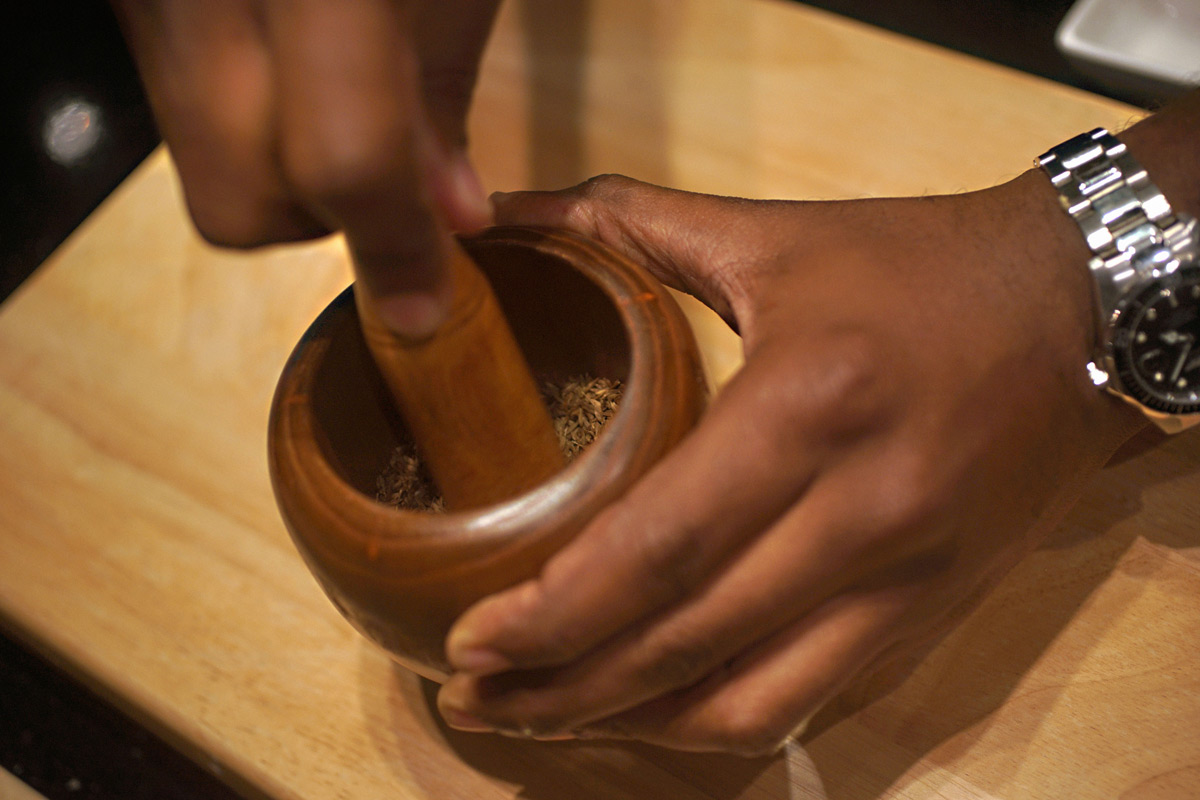 We went old school with it, but you can grind it in a coffee grinder if you wish. Or, you can go ultra-low tech and put it between two pieces of foil and crushing the seeds with a rolling pin.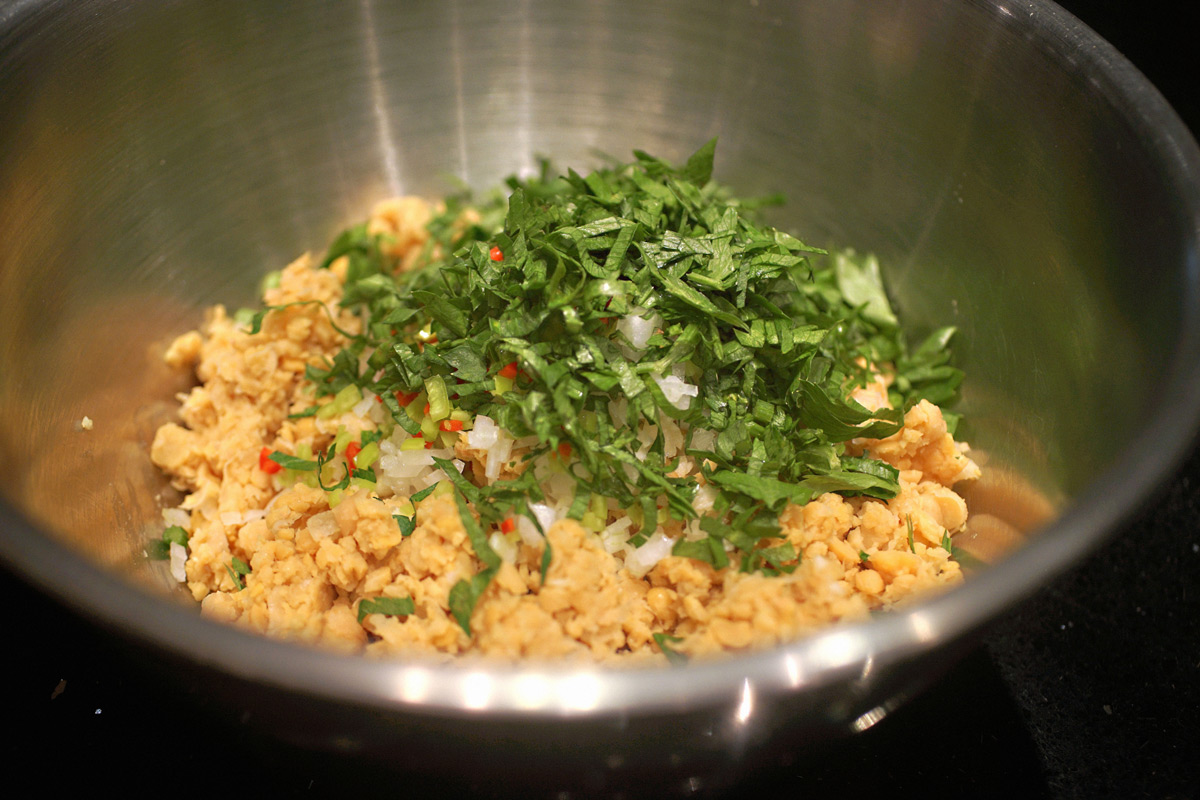 We put the Channa and the herbs in a large mixing bowl.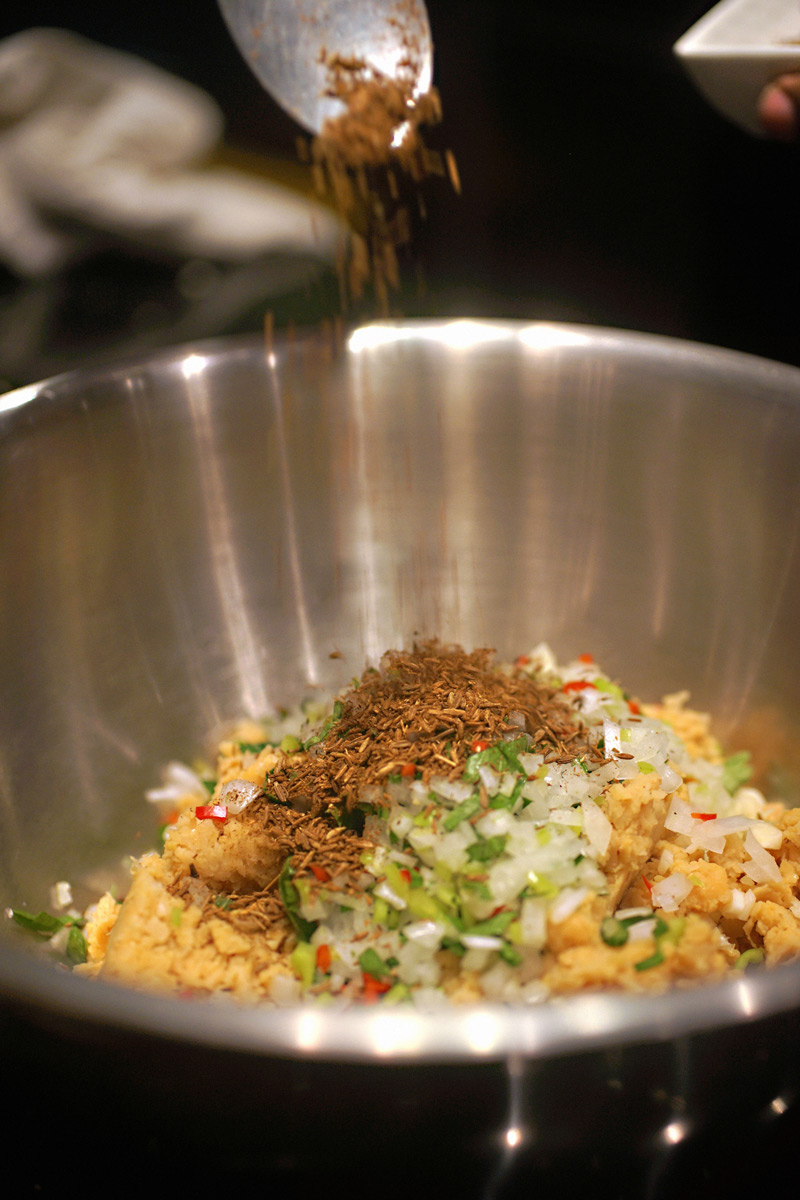 Added the Geera.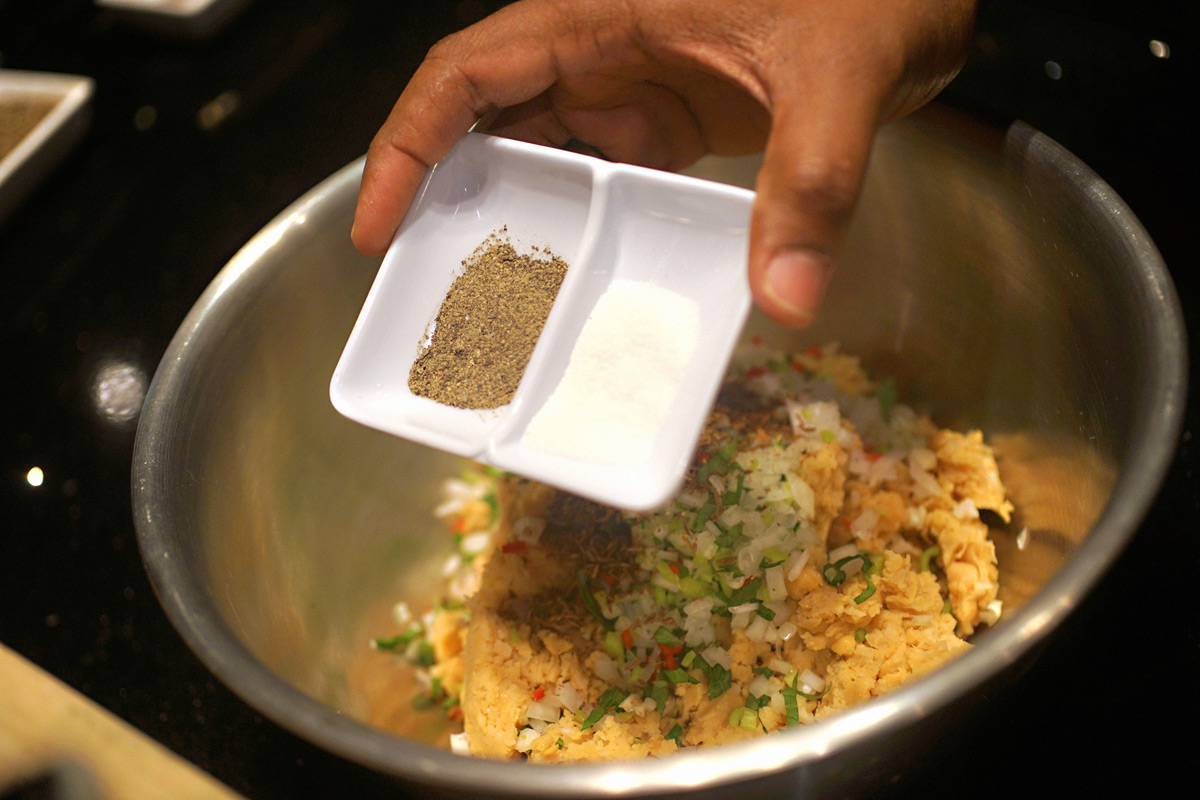 Salt… Black Pepper.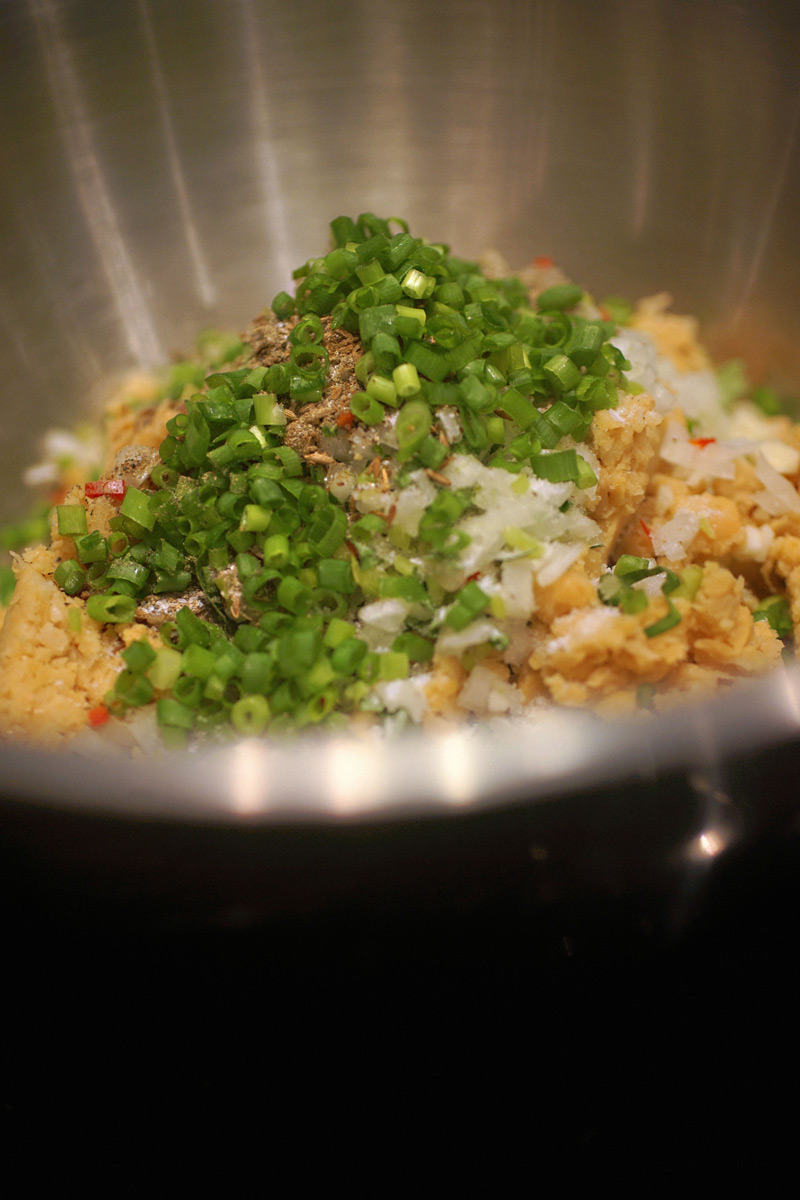 OH! Chive. Almost forgot Chive.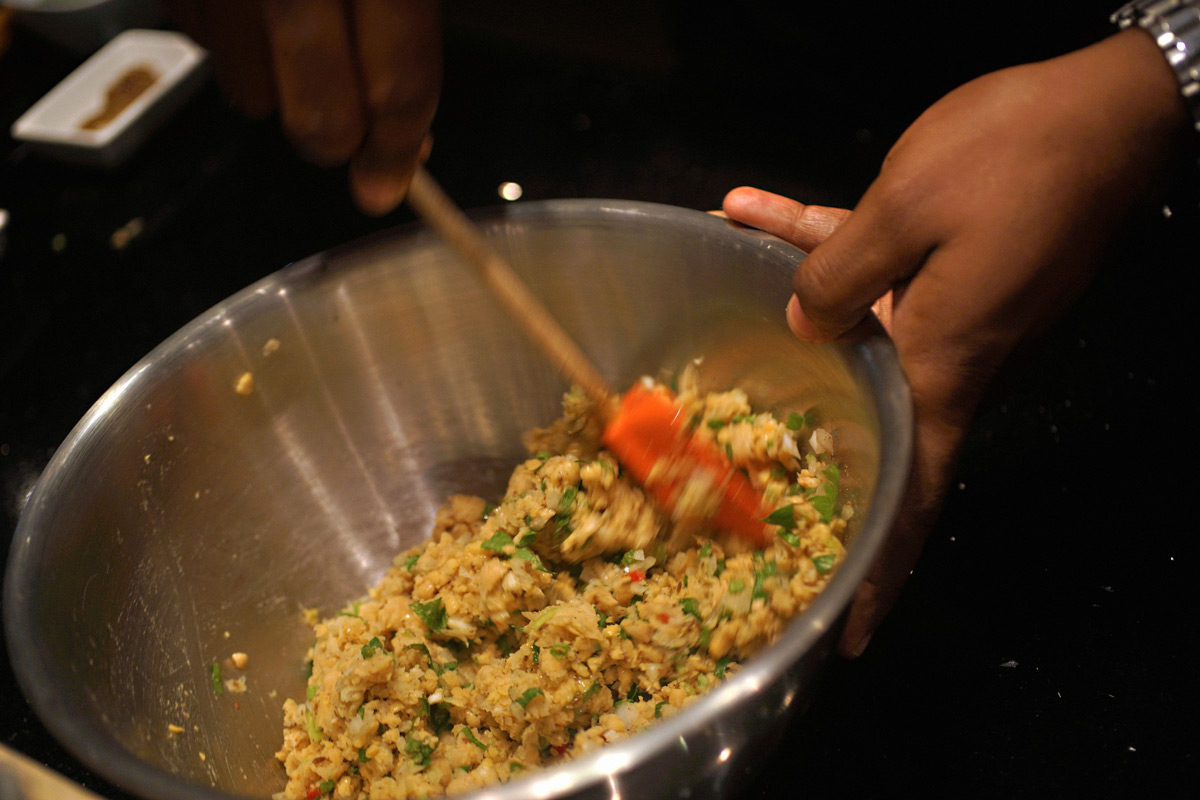 Mix! Mix! Mix!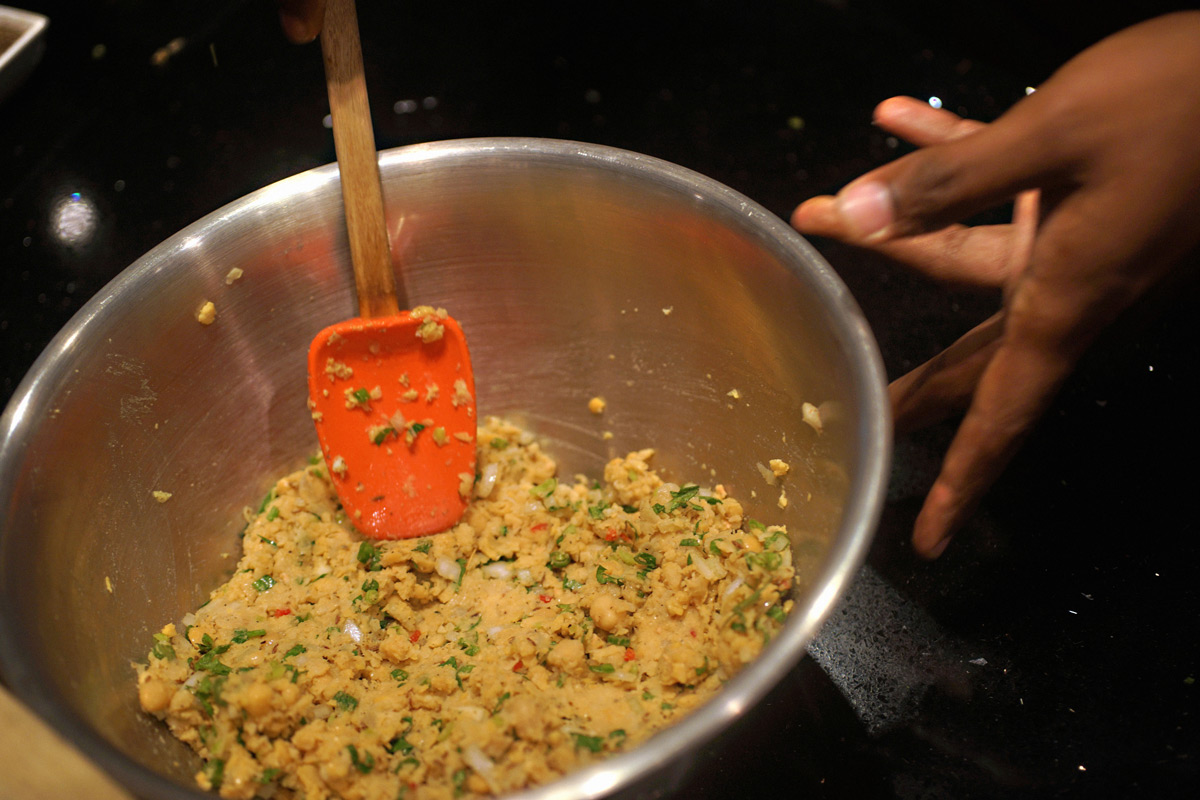 A way to get a mixture to bind is to use egg or egg whites. But since we wanted to keep this dairy free, we added a little Cornmeal to dry the mixture out to a pliable texture. We found a mix that stayed together when we pressed it into a patty.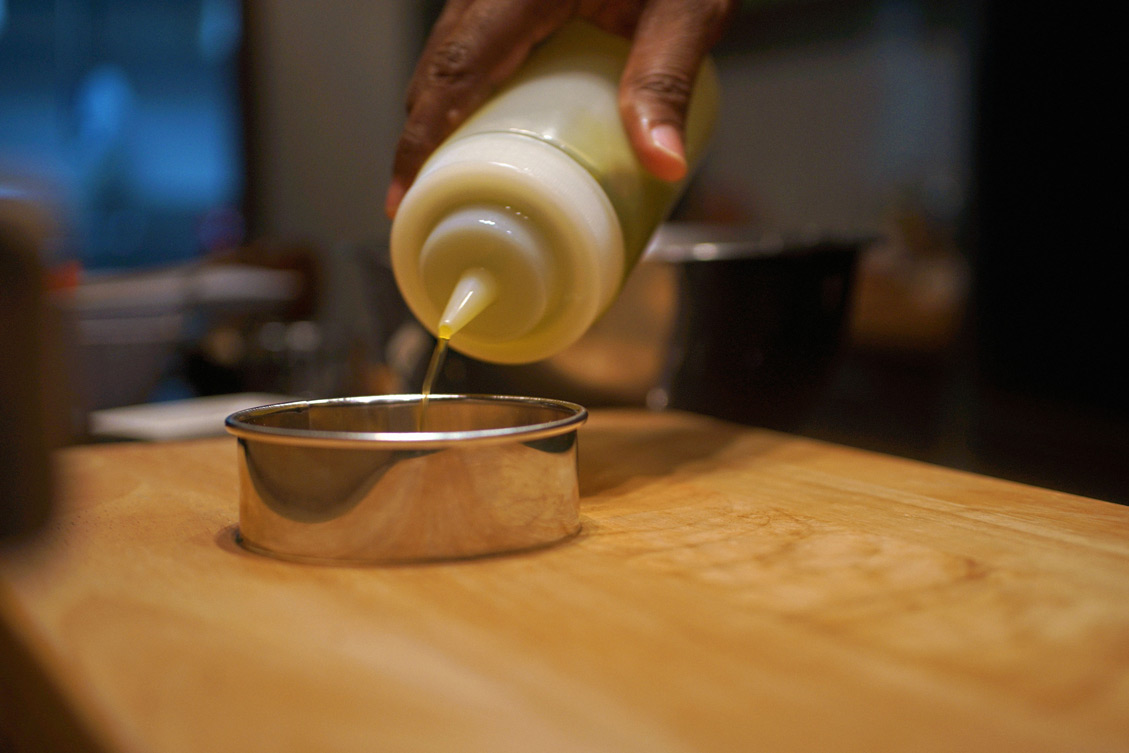 We used a circle mold to help us form tight, neat rounds. Just a little olive oil on the surface so the mixture doesn't stick.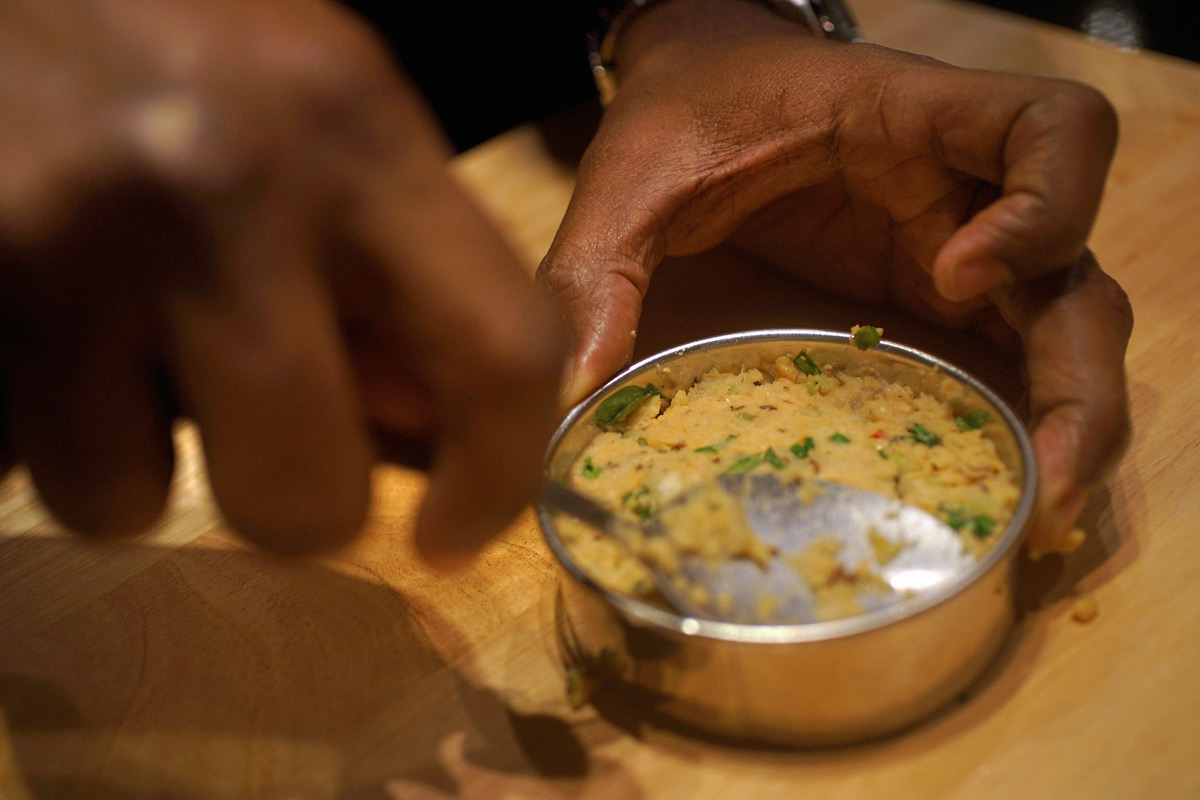 Then we spooned in the mix and pressed it together.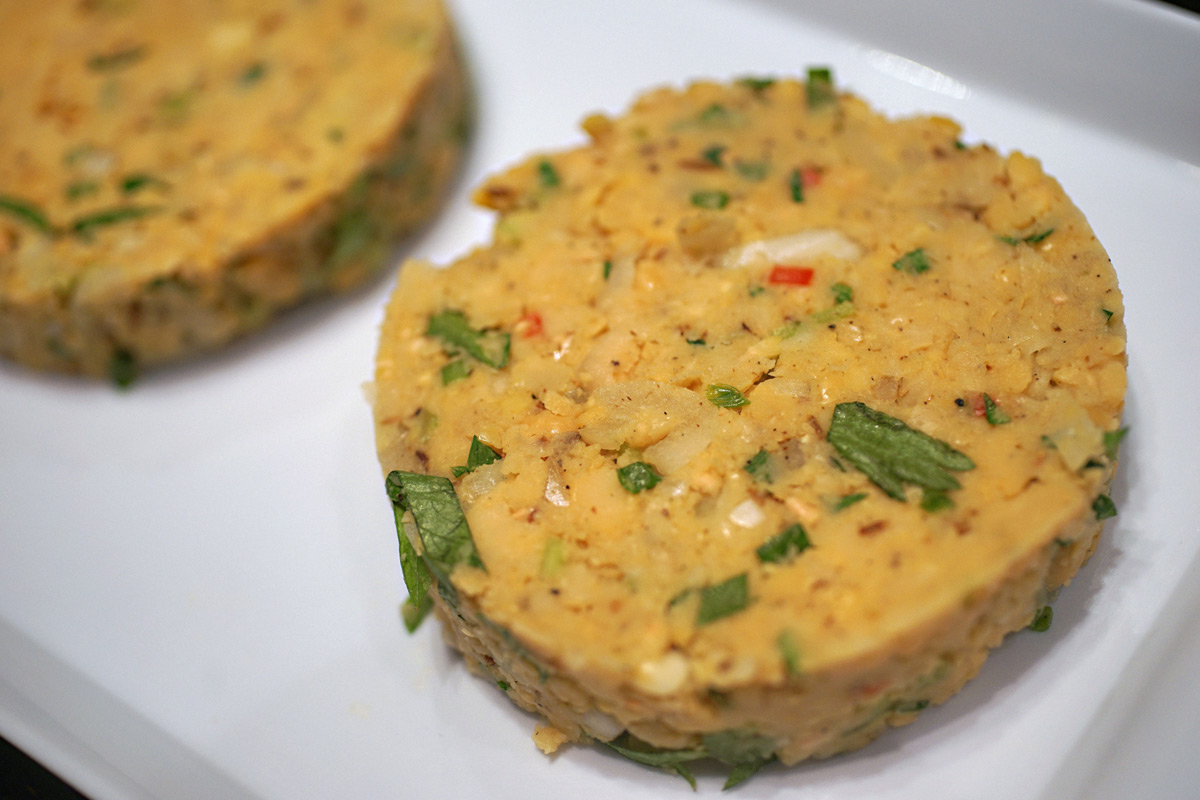 Looking good already.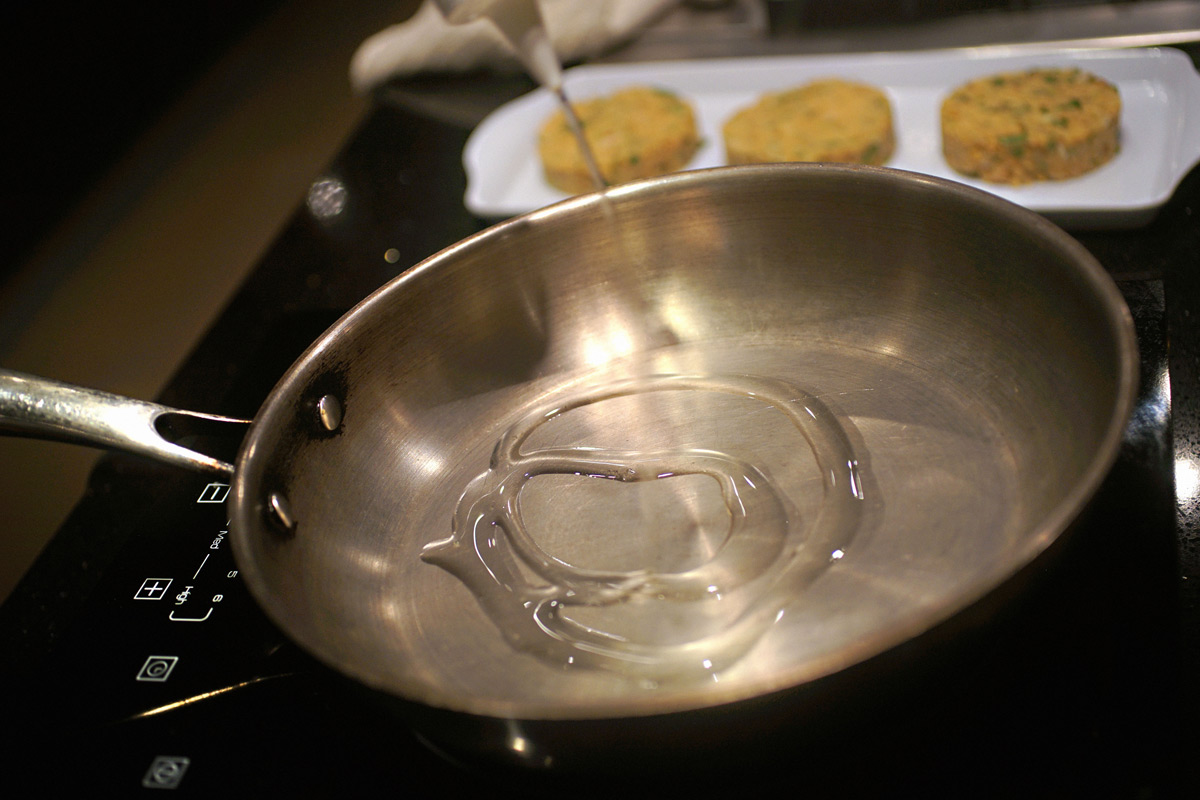 A little CUISINE SOYA BEAN OIL in a pan on a medium fire.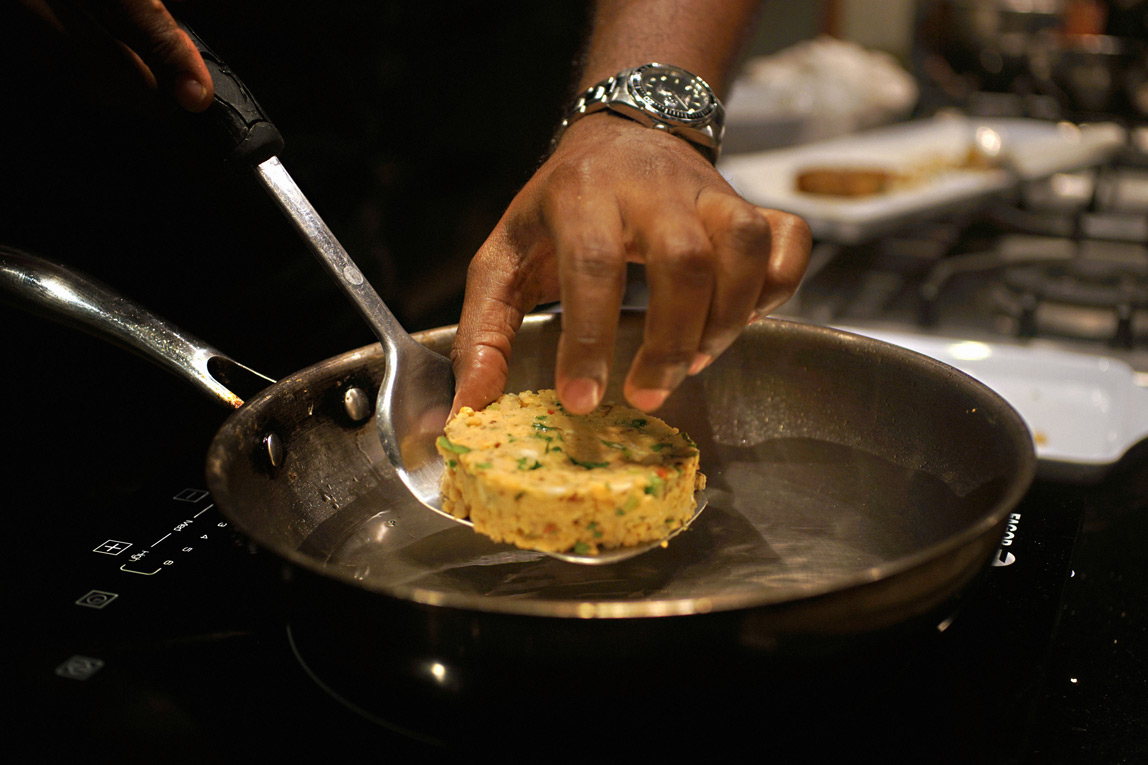 Oil hot… Patty in.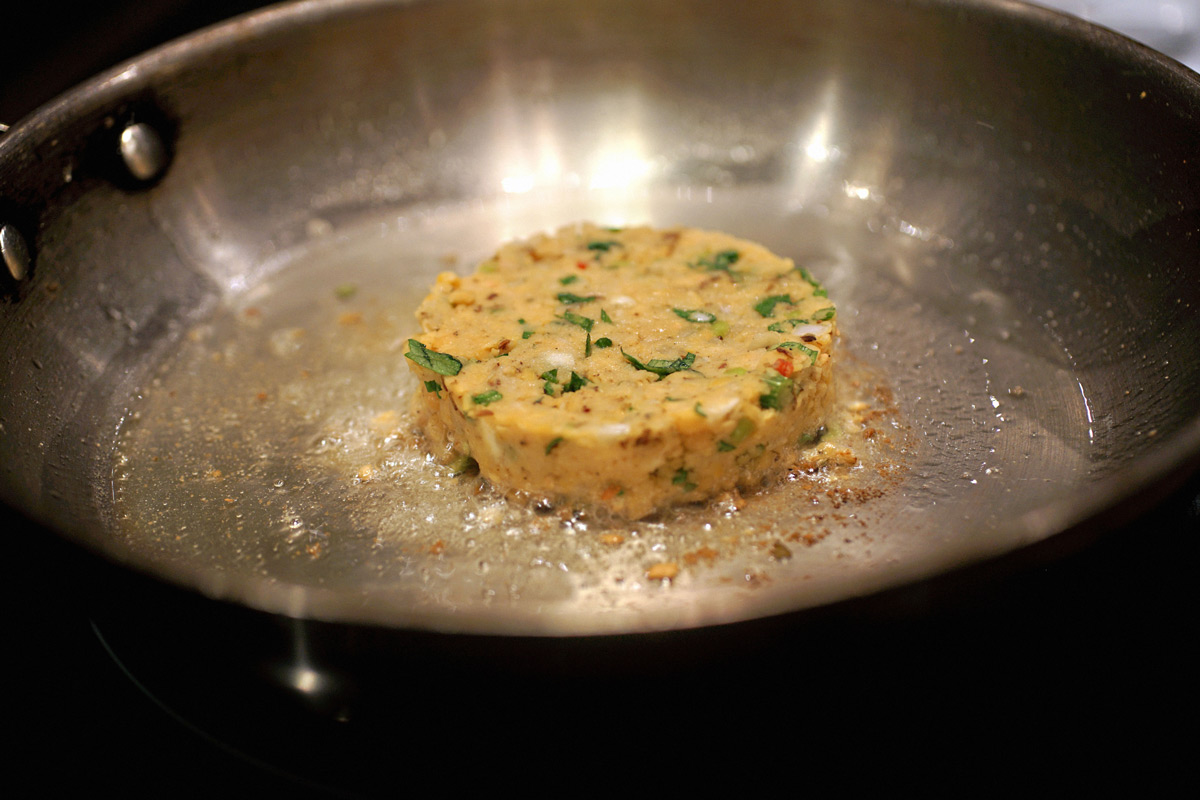 We tested one out first to make sure the mixture was correct.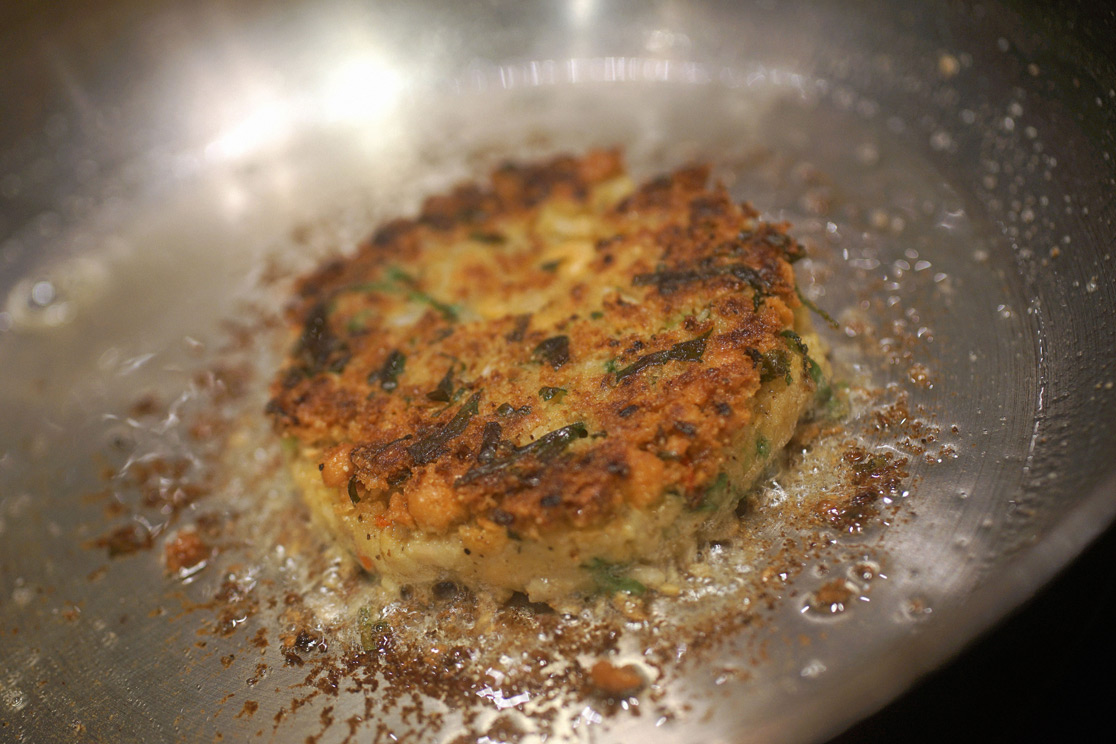 In about 2 to 3 minutes, the patty was golden brown and ready for a gentle flip.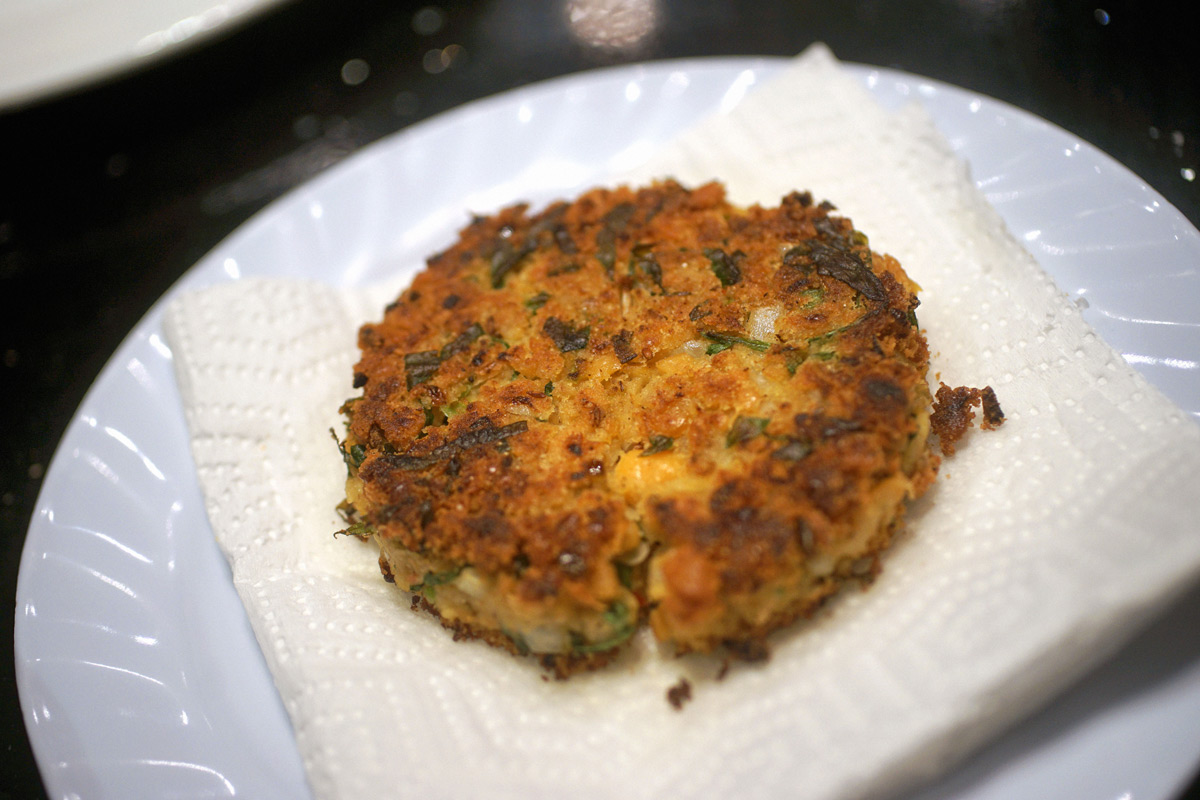 Another 2 mins on the other side and then off the flame and onto paper towel to get off the excess oil.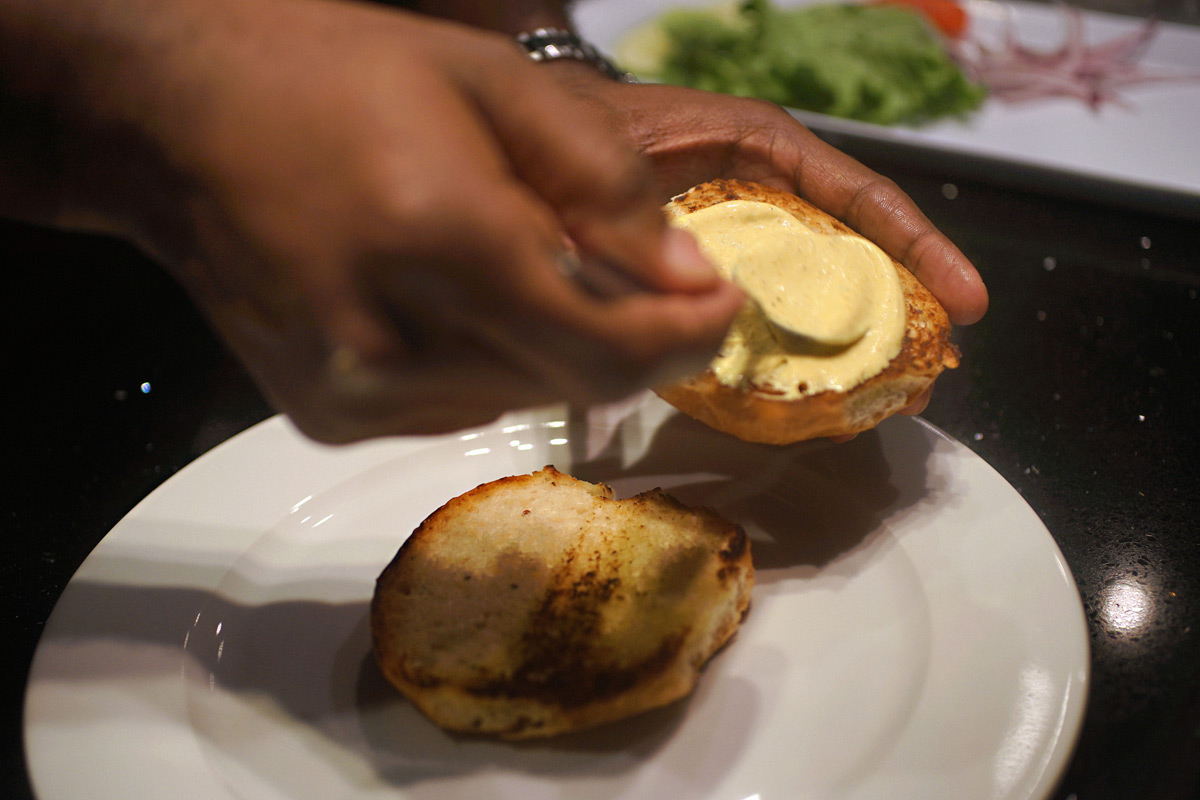 While the patty rested, we prepared our bun. Sauce on the top side. We used a light Mustard. A Tomato based sauce could work too.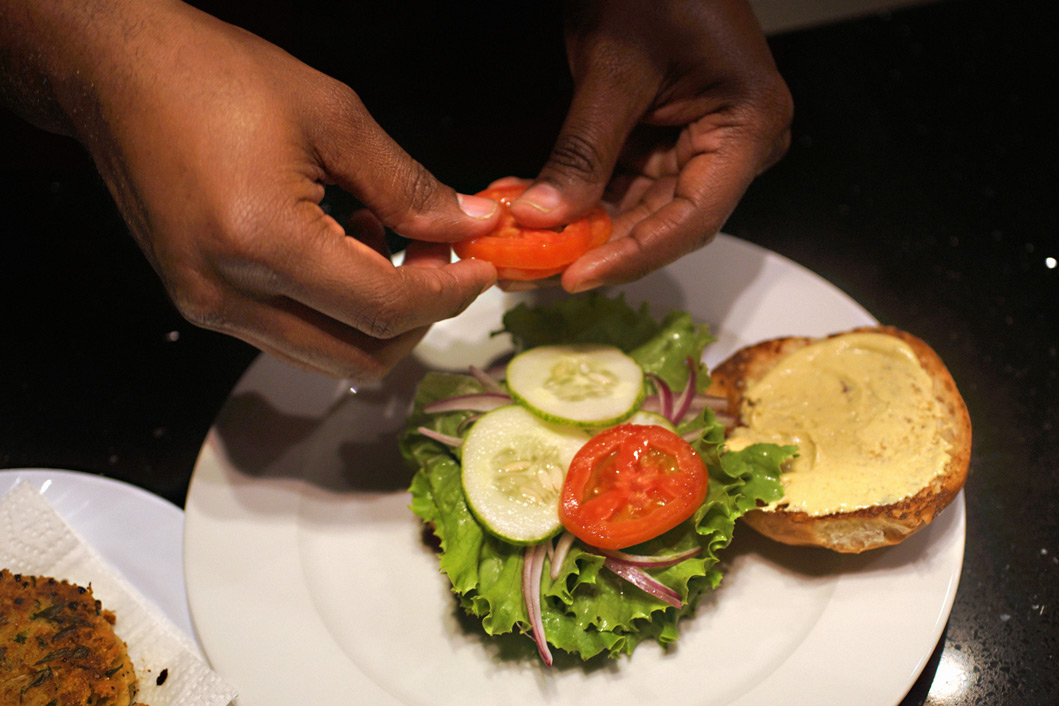 Lettuce for volume, Red Onions for a sweet, tangy crunch, Tomatoes for some more acidity and cucumber to add a cool balance.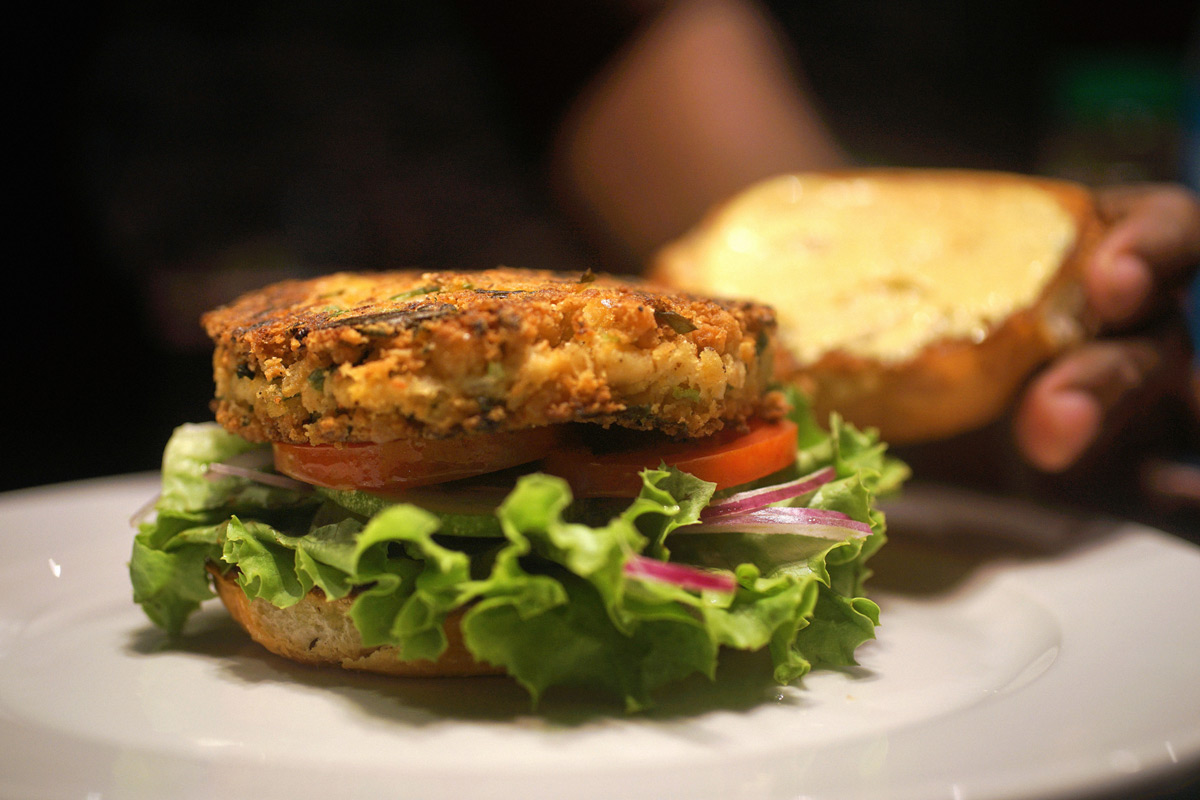 Patty on top.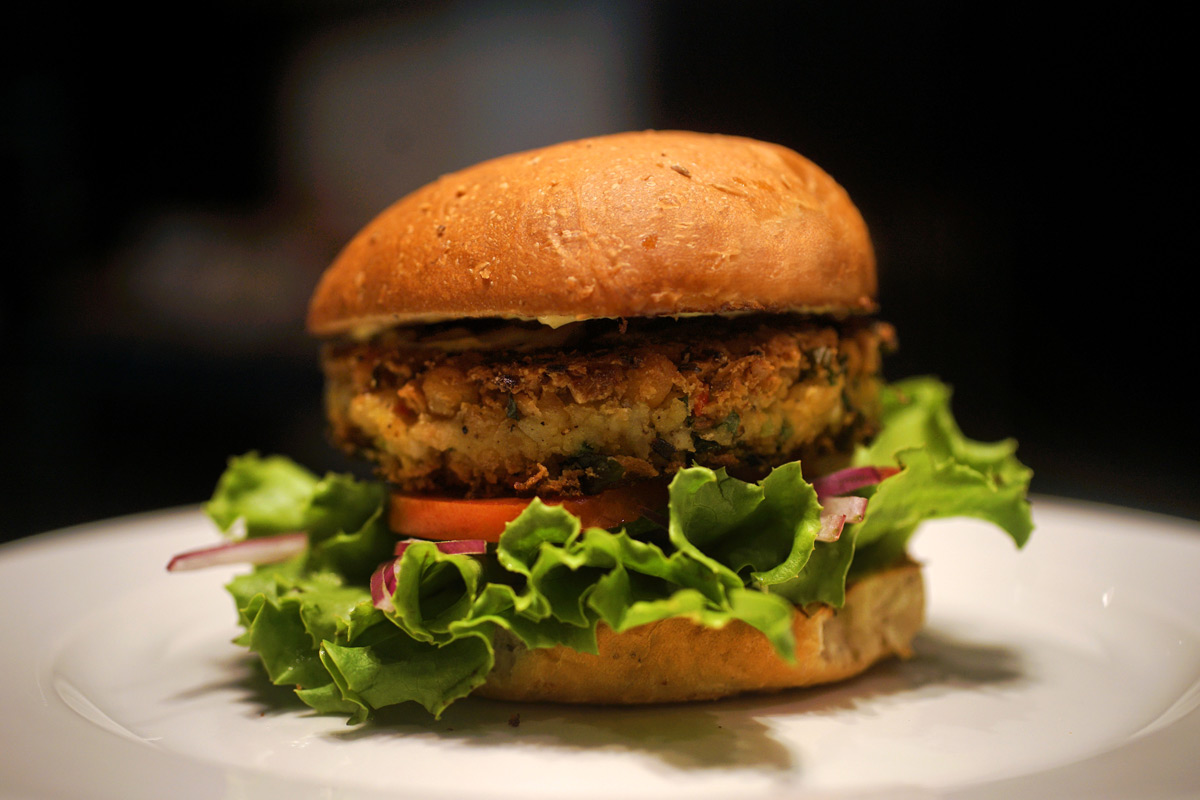 And there it is. A tasty CUISINE CHANNA BURGER, just right for your meatless any-day! Give it a try and/or let us know how you would do it.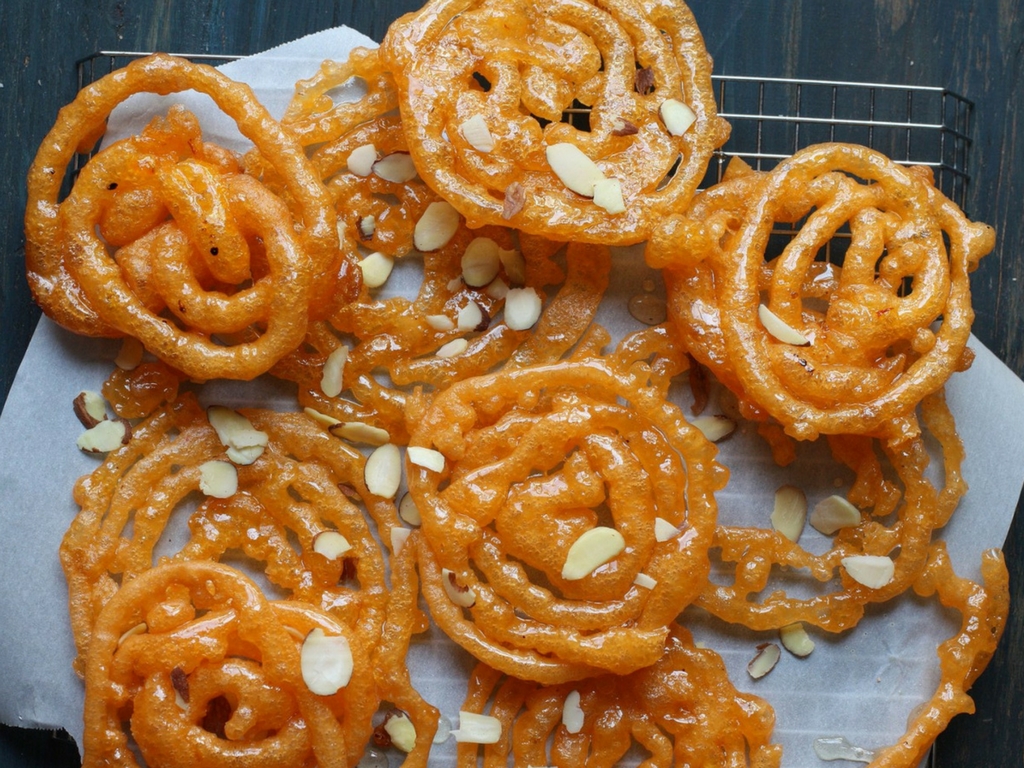 Ingredients for jalebi batter:
1 cup all-purpose flour
2 tbsp. gram flour/besan
⅛ Tsp turmeric powder
A pinch of baking soda or ¼ tsp baking powder
1 cup water, 250 ml
1 to 2 tbsp. all-purpose flour to be added later after the batter has fermented
For sugar syrup:
1 cup sugar/ 150 grams
½ cup water/ 125 ml
¼ tsp saffron /strands
Ghee or oil for deep frying
Directions:
Preparing jalebi batter:
In a mixing bowl, take 1 cup (125 grams) all-purpose flour. Add 2 tbsp. besan or gram flour, a pinch of baking soda and ⅛ tsp turmeric powder.
Mix all the above dry ingredients with a spoon or spatula.
Then add water. The amount of water to be added depends on the quality of flour used.
With the spatula or spoon, mix. Break the small or tiny lumps with the spatula or spoon while mixing.
Then in round circular directions stir the batter briskly for 4 minutes. This adds volume to the batter and makes it even and smooth.
The batter should have a flowing consistency. Cover and keep the batter to ferment in a warm place for 12 to 15 hours.
Stir the batter and if you carefully see, the batter would have become thinner than what it was before due to fermentation.
To thicken the batter again, add 1 to 2 tbsp of all-purpose flour. With a spoon mix very well.
Now pour this batter in the squeezy tomato ketchup bottles that we get in the market. You can also use a piping bag or make your own with butter paper. Depending on the capacity of the bottle, you can pour less or more in it.
Preparing sugar syrup:
Take 1 cup sugar in a pan. Add ¼ tsp saffron strands to it. Do add saffron as it gives a nice orange-yellow color and also its aroma to the jalebis.
Add ½ cup water.
Keep this pan on stove top on low flame and begin to stir, so that the sugar dissolves.
On a low to medium flame, cook the sugar syrup.
Cook till you get one string consistency in the sugar syrup.
Once you get the one string consistency, switch off the flame and add ¼ tsp lime or lemon juice. Stir well. Keep the sugar syrup on the burner itself so that it remains warm when you add the jalebis in it.
Frying jalebis:
Heat oil for deep frying. You can also use ghee or half­half of oil and ghee. Ghee gives a better Flavor.
To check the temperature of oil, add a tiny amount of batter to the oil. If it comes up quickly and gradually the oil is hot enough for the jalebis to be fried. The frying temperature is 176 degrees celsius.
Now squeeze the bottle and make concentric rings with the batter.
Either start from the center and move outside or vice versa. Be careful while making the jalebis as the oil is hot.
You won't get perfect shapes as the jalebis keep on moving while you make the circles. This does require practice and it also depends on what equipment you are using to make the jalebis.
When one side is partly cooked, turn over and fry the other side.
Some jalebis will be cooked faster than others.
Fry till the oil stops sizzling and the jalebis are a light golden. Remove with tongs or a bamboo skewer. While removing shake to drain the extra oil.
Then immediately put the fried jalebis in the sugar syrup. The sugar syrup should be slightly hot or warm when you add the jalebis in it.
Turn over after a minute so that both sides are coated with the syrup.
Keep them in the syrup for about 2 to 3 minutes. If you keep for two minutes, they will be lightly colored and if you keep for 3 minutes, they will have a deep color.
Remove with a wooden skewer or tongs. Shake lightly so that the excess sugar syrup falls back in the pan. Place them in a plate or tray lined with a foil or butter paper.
Serve jalebis hot, warm or at room temperature. The leftovers can be kept in an airtight container and refrigerated.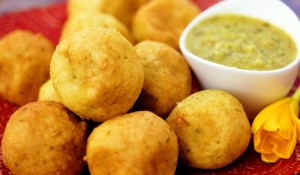 INGREDIENTS:
2 cups split peas powder
1/2 cup flour
1 clove garlic, finely minced/pureed
1- 1/2 teaspoon salt
black pepper
1 teaspoon saffron powder or 2 tsp curry powder
2 teaspoons baking powder
oil for deep frying
METHOD:
Mix split peas powder with all ingredients except water.
Add enough water to make a thick batter. Let rest for 1 hour.
Heat oil in heavy pot.
Drop batter, a teaspoon at a time into the hot oil, and let cook until puffed and golden brown.
Serve with a chutney sauce or a peppery tamarind sauce. I made a killer sauce by combining equal parts mango chutney and water and pureeing them with 1 clove of garlic. This is the consistency of pholourie sauce that one usually gets when purchasing locally on the roadside.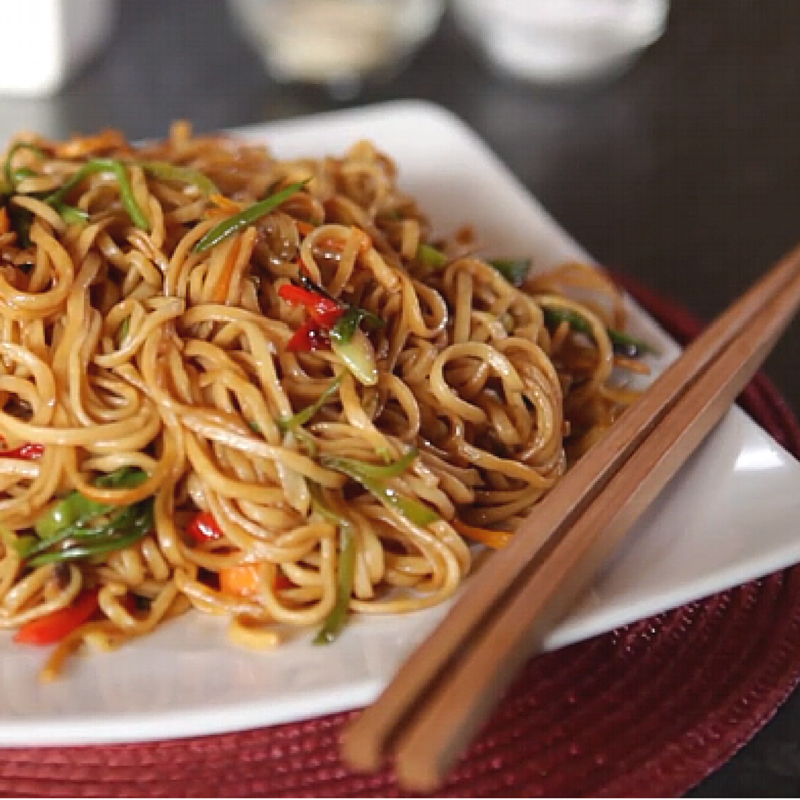 Prep Time: 10 Minutes | Cook Time: 5 Minutes
Ingredients:
8 oz. steamed Chinese noodles
2 oz. pork (cut into thin slices)
3 garlic cloves (finely chopped)
1/2 cup shredded cabbage
1/4 cup shredded carrot
1 tablespoon soy sauce
1 tablespoon oyster sauce
2 teaspoons hoisin sauce
1/2 teaspoon sugar
1/2 teaspoon Chinese dark soy sauce
2 tablespoons water
2 tablespoons cooking oil
2 stalks Chives (cut into 2-inch length)
Salt to taste
Method:
Soak the steamed Chinese Noodles in cold water for about 5 minutes. Rinse a few times until the water turns clear and the Chinese Noodles are soft. Drain the excess water and set aside. (Don't over soak the the noodles it will get limpy and soggy.)
In a small mixing bowl, mix all the seasoning ingredients. Set aside.
Heat up the wok with the cooking oil. Add in the chopped garlic and stir-fry until light brown or aromatic. Add the pork and stir fry until they are half done. Add the shredded cabbage and carrot into the wok and do a few quick stirs. Add the noodles , the seasoning mixture and the water. Continue to stir until the noodles are well blended with the seasonings and completely cooked through. Add the chopped Chives, do a few final stir, dish out and and serve hot.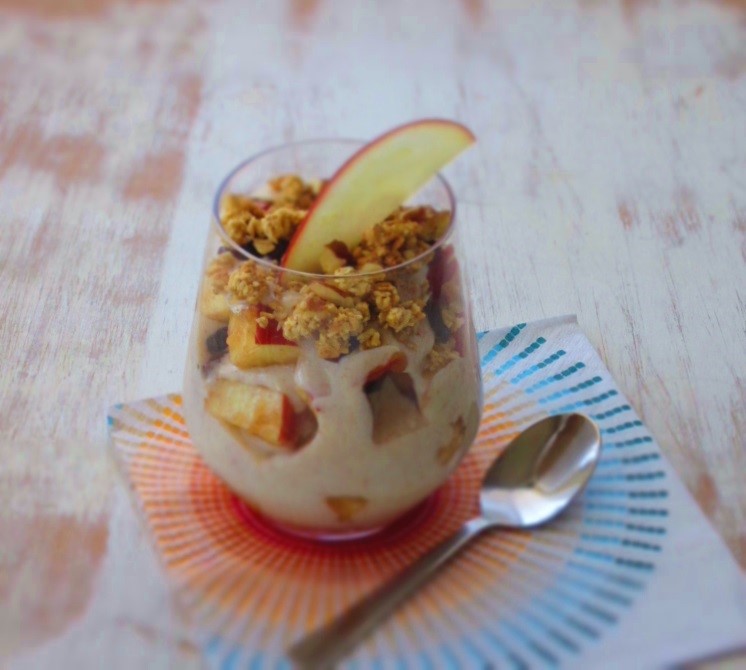 Say hello to a summertime dessert sure to make anyone smile…
Best part? It's healthy for you! So before the Kids head back to their hectic school schedules, treat them to this delightful creation.
Massy Stores tip: Freeze fruit for future use if you are unable to use them right away. They will come in handy for creations like this or even in delicious smoothies!!
Ingredients:
2 cups of yogurt @ Massy stores Save $1.50: Was: $6.49 Now: $4.99
2 cups of granola
2 cups of diced peaches @ Massy Stores Save $6.00 Was: $31.99 Now: $25.99
2 cups of diced apples @ Massy Stores Save $6.00 Was: $30.99 Now: $24.99
4 tablespoons of Honey
Directions:
Use 4 parfait, white wine, or other tall glasses.
Spoon 2 tablespoons of yogurt into each glass and smooth surface.
Spoon 2 tablespoons of granola overtop and smooth surface.
Spoon 2 tablespoons of fruit overtop and smooth surface.
Repeat the process, adding a bit of honey here and there, to taste. Relax and Enjoy!!