Seabest Curry Pollock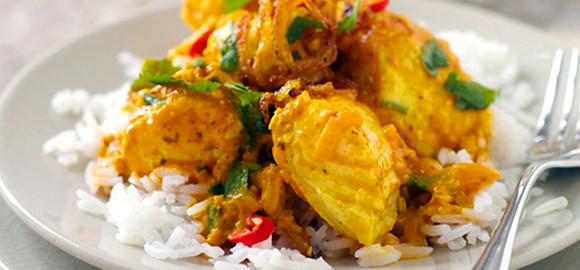 Serves 4
Ingredients:
2tbs ILLIADA EXTRA VIRGIN OLIVE OIL
Onion
2 Cloves  Garlic
2 inch piece  Fresh Ginger
Dash hot pepper
4 tbs masala curry paste
453gms Seabest Pollock Fillet
1 tbs coriander
Dash Freshly grated black pepper
 Method:
Heat the oil, crush the garlic and finely slice the onion, then cook them gently until softened and slightly caramelised – it will take 10-15 minutes. Set aside ¼ of the onion-garlic mix.
Meanwhile, cook your rice according to the on-pack instructions.
Chop and add the ginger and chilies to the onion-garlic mix, and cook for a minute. Stir in the curry paste and coconut milk until well mixed. Bring this mixture to the boil, reduce the heat and simmer for 5 minutes, until it has reduced slightly.
Cut the pollock into large cubes. Add to the sauce, season the mix with the black pepper and pop on the lid, then simmer for 5 minutes, until the fish has turned opaque and is just flaking.
Season and stir in the coriander very carefully.
Serve with your cooked rice and garnish with reserved onion and fresh coriander.