Pulled Pork Grilled Cheese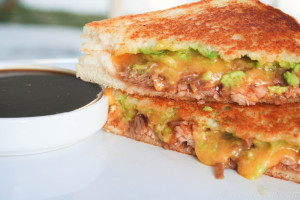 Time taken to prepare: 15 minutes
Ingredients:
Directions:
Layer ½ cup cheese and pulled pork on top of one slice of bread.
Sprinkle with green onions. Add the second half of cheese on top.
Top with final slice of bread. Butter the top of the bread with 1 tablespoon of butter.
Melt the second tablespoon of butter in a grill pan over medium-low heat.
Gently place the sandwich in the hot grill pan. Cover with a lid and cook until the bottom layer of cheese is melted. Flip the sandwich and cook on the second side until the cheese is melted. Remove from pan, transfer to plate. Slice, serve immediately, and enjoy!