Hummus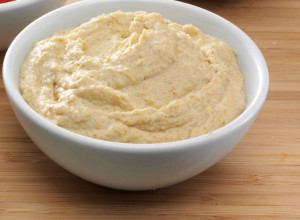 Ingredients 
2 cans Cuisine Channa 
4 tbsp tahini (see recipe below) or sesame seed oil
juice of 1 lemon
1- 2 cloves garlic, crushed
Salt to taste
Hummus Directions
Keep some chickpeas on the side for garnish. Place the rest of the ingredients in a food processor and process till combined. Place hummus in serving platter and top with whole chickpeas. Drizzle with olive oil.
You can garnish with paprika, cumin or chopped parsley.
Meat Recipe
200g Meat (lamb or beef) cut finely (almost like a mince).
2 tbsp vegetable oil for frying
a pinch of cinnamon
a pinch of allspice
Salt & Black pepper to taste
1/4 cup toasted pine nuts
Prepare hummus as in recipe above. Place prepared hummus in serving platter. Flatten the top of the hummus creating a wedge on the sides.
Fry the meat in vegetable oil till cooked through. Add the fried meat and its oil to the hummus. Garnish with whole chickpeas and toasted pine nuts. These can be served as appetizers, breakfast and are also great with BBQs and grills. Enjoy with warm toasted Cuisine Pita Bread – white @ $7.49 or Cuisine Pita Bread – wheat @ $9.29
Home-made Tahini 
Makes about 2 cups
2 cups white sesame seeds
1/4 cup olive oil
Heat a heavy wide-bottomed sauté pan over medium-high heat. Add the sesame seeds and toast lightly – about 2 minutes, shaking the pan so they toast evenly. Let cool completely.
Put in a food processor and drizzle in the olive oil. Pulse for 3-5 minutes, or until it's as smooth as you can get it. Add a little more olive oil if necessary.
Once refrigerated and stored properly, the tahini can last 3 to 6 months.