Spaghetti and Meatballs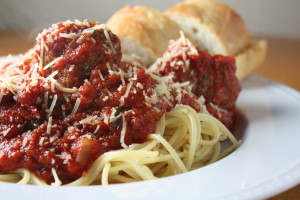 INGREDIENTS
Coarse salt and ground pepper
1/4 cup finely grated Parmesan, plus more for serving
1/4 cup chopped fresh parsley
2 garlic cloves, minced
1 large egg
1 pound ground beef
1/4 cup plain dried breadcrumbs
1 tablespoon olive oil
1 can (28 ounces) crushed tomatoes in puree
3/4 pound spaghetti
DIRECTIONS
STEP 1
Set a large pot of salted water to boil. In a bowl, combine Parmesan, parsley, garlic, egg, 1 teaspoon salt, and 1 teaspoon pepper. Add beef and breadcrumbs; mix gently. Form into 16 balls.
STEP 2
In a 5-quart Dutch oven or heavy pot, heat oil over medium. Add meatballs, and cook, turning occasionally, until browned, 8 to 10 minutes. Add tomatoes; bring to a boil. Reduce to a simmer; cover partially, and cook, stirring occasionally, until meatballs are cooked through, 10 to 12 minutes.
STEP 3
Meanwhile, cook pasta until al dente. Drain, and return to pot; add meatballs and sauce, and toss gently. Serve with Parmesan.