Pork Osso Bucco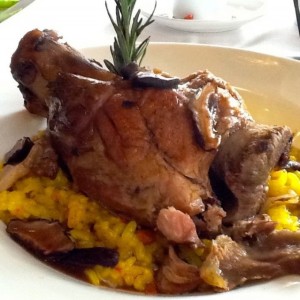 Ingredients:
4-6 meaty slices of pork shank, cut 1.5 inches thick
2 tablespoons olive oil
1/3 cup carrots diced
1/3 cup onions diced
1/3 cup celery diced
4 cloves garlic, minced
1 cup dry white wine
1 cup chicken stock
Ground black pepper to taste
Salt to taste
Directions:
Preheat oven to 350 degrees F.
Heat the olive oil in a large cooking pot.  Add the shanks and brown on both sides.
Remove the shanks from the pot.  Reduce the heat to medium, and add the carrots, onions, celery and garlic.
Cook and stir until the vegetables have softened, about 5 to 10 minutes.
Add the wine, chicken stock, salt and black pepper.  Add the shanks back to the stock and bring to a boil. With the lid back on the pot, place the pot into the oven and cook the shanks for one to two hours, or until fork-tender.
Serve with Risotto or Rice
Chef's tip: Serve over a warm bed of risotto or white rice to make this meal all the more exquisite!