Low Cal Brownie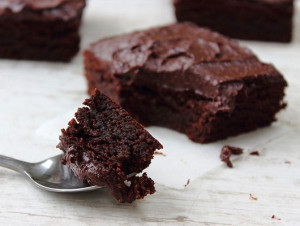 Ingredients
1/2 cup all-purpose flour
6 tablespoons unsweetened cocoa powder
1 cup white sugar
1/8 teaspoon salt
2 tablespoons vegetable oil
1/2 teaspoon vanilla extract
1 (4 ounce) jar pureed prunes baby food
2 eggs
Directions
Preheat oven to 350 degrees F (175 degrees C). Grease an 8×8 inch square pan.
In a medium bowl, stir together flour, cocoa, sugar, and salt. Pour in oil, vanilla, prunes, and eggs. Mix until everything is well blended. Spread the batter evenly into the prepared pan.
Bake for 30 minutes in the preheated oven, or until top is shiny and a toothpick inserted into the center comes out clean.