Dark Chocolate Bacon Cupcakes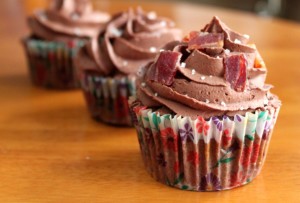 Ingredients
12 slices pancetta, grilled until crisp

100g/3½oz dark chocolate, melted

225g/8oz plain flour

50g/2oz cocoa powder

250g/9oz caster sugar

2 tsp bicarbonate of soda

1 tsp baking powder

1 tsp fine sea salt

2 free-range eggs

50ml/2fl oz strong coffee, cooled

225fl oz/8fl oz soured cream

120ml/4fl oz vegetable oil

For the buttercream icing

150g/5oz unsalted butter, softened

150g/5oz icing sugar, sifted

100g/3½oz dark chocolate, melted and cooled slightly

sea salt, for sprinkling
Preparation method
Preheat the oven to 180C/350F/Gas 4 and line a muffin tin with paper cases.
Crumble two-thirds of the grilled pancetta onto a baking tray lined with baking parchment and cover with the melted chocolate. Allow to set before chopping into bacon chocolate chips.
Sift together the flour, cocoa powder, sugar, bicarbonate of soda, baking powder and salt into a bowl and mix well.
In another bowl beat the eggs, coffee, soured cream and vegetable oil until well combined, and stir this into the dry ingredients. Stir in the bacon chocolate chips.
Spoon the mixture into about 20 muffin cases, bake for 20-25 minutes.
For the buttercream icing, whisk together the butter and icing sugar. Fold in the melted chocolate.
Remove the cupcakes from the oven and allow to cool before piping the icing onto the cupcakes. Top with the remaining bacon pieces and a sprinkling of sea salt.