Chicken Cacciatore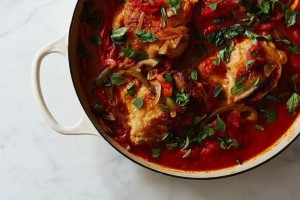 Ingredients
1 whole chicken, cut up (about 4 pounds)
½ cup flour
Salt and pepper
¼ cup plus extra olive oil
½ cup white wine
One jar of Prego or your favorite sauce
Instructions
Heat the oil in a large cast iron pot. Combine flour, salt, and pepper, and lightly coat each piece of chicken.
Add the chicken to the pot, a few pieces at a time; brown on each side (about 1-2 minutes on each side). Remove from pan and set aside. Continue until all the chicken is brown. Add oil as needed.
Return all the chicken pieces to the pot and add the ½ cup of wine. Cook for 3-5 minutes. Add the Sunday sauce. Reduce heat to simmer and simmer for 2 hours. The sauce will thicken up some because of the flour so you may have to add more sauce. Serve with pasta.